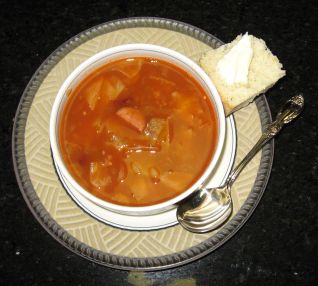 We are having a BIG cold snap here today, so it's perfect weather for soup. I made this for dinner tonight. This recipe is from a now-closed restaurant called the Inn at Brushy Creek that used to be in Round Rock, just north of where I live. This soup was always the first course, served in small bowls. It's so hearty, though, that we just serve it in big bowls and make a meal out of it. It is SO easy to make, your house smells terrific while it's cooking and it's VERY kid-friendly (it's got ketchup in it!). I'm going to go here and pick up a nice loaf of something yummy to go with it. Their Spinach Feta bread is delicious, but it does have high fructose corn syrup it it (their Honey Whole Wheat does not).
Portugese Soup from the Inn at Brushy Creek
2 white onions, chopped
6 cloves garlic, chopped or pressed
6 Tbsp. olive oil
1 pound garlic-flavored, smoked pork sausage, cut into bite-sized pieces
(Elgin sausage is great, if you happen to live nearby and can get it, or Linguica)
10 cups beef stock
2 cans kidney beans, with liquid
1 head green cabbage, cored and chopped into medium pieces
12 small new potatoes, scrubbed and quartered
1/4 to 1/2 cup vinegar (less to taste)
1 16-ounce bottle ketchup (more to taste)
salt and pepper to taste
Saute onions and garlic in oil.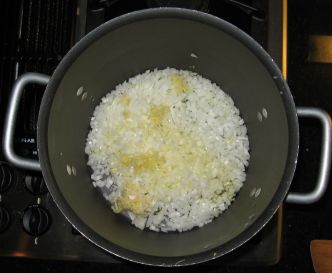 When they are just transparent, add sausage slices and brown lightly.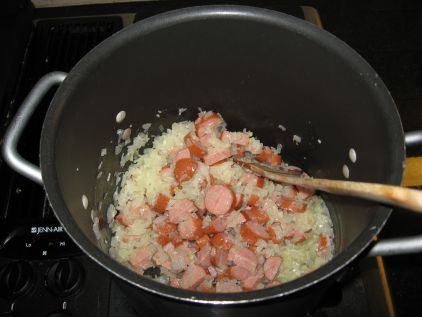 Add beef stock and all other ingredients.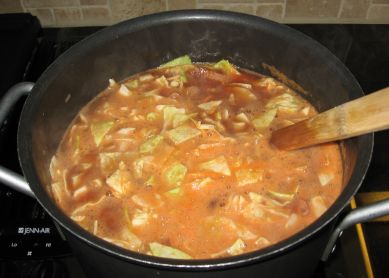 Bring to a boil, stirring often to keep the bottom of the pan from burning. Reduce heat, simmer 35 – 45 minutes or longer, stirring occasionally. Correct seasonings to taste. Yields about 1 gallon. Share this with your neighbors – because of the potatoes, this soup will NOT freeze well, but it will keep in the fridge for a couple of days.