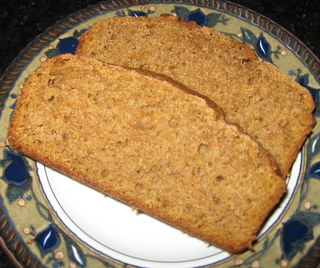 This recipe is from July 2008 Cooking Light magazine.
I prepared the batter exactly according to the recipe instructions and it was quite good, but the next time that I make it, I'll probably substitute a little bit of the wheat flour for regular, all-purpose flour; it was just a little bit too "wheaty" for us. My bread didn't turn out quite as high/tall as I would have liked it, either, but I'm pretty sure that's because my loaf pan is a 9-inch, rather than the suggested 8-inch (that was all I had), so if you're looking for a nice, attractive, tall loaf, the whole "8-inch pan thing" really is important.
Cooking the carrots down and pureeing them is a bit of a pain (I've seen other carrot breads that use grated carrots, like a carrot cake, which would be much faster), but it does give a nice texture and attractive color to have the carrots blended in.
I made a double batch and made some in a mini-loaf pan, also: