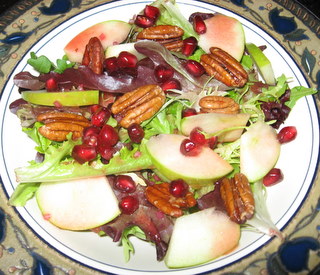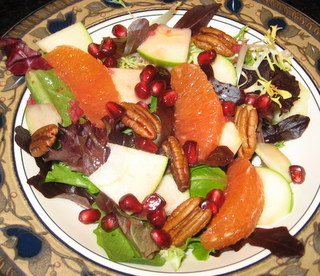 My salad, the same but with orange supremes
(I told you that it was becoming an unhealthy obsession!)
This was SO yummy! A great way to take advantage of the last of the pomegranate crop and can be varied to include whatever strikes your fancy.
Here's how:
Salad with Pomegranate Vinaigrette and Fresh Pomegranate Arils
(makes 4 small servings or 2 large-ish ones)
(adapted from this recipe by Earthbound Farm)
for the dressing:
1/4 cup pomegranate juice
(squeezed from one fresh pomegranate, or you can use Pom or another bottled pomegranate juice)
1 Tbsp finely minced shallot
1 Tbsp white wine vinegar
small squeeze fresh lemon juice (1 teaspoon?)
1/2 tsp sugar
3 Tbsp olive or canola oil or a combination of the two
Whisk together all ingredients EXCEPT the oil. Slowly pour the oil into the vinegar mixture, whisking until thoroughly incorporated.
for the salad:
4 cups baby salad greens
1/2 of a Granny Smith apple, thinly sliced (pear would be good, too)
1/4 cup pecan halves, toasted at 350 degrees for about 3 minutes until fragrant and then cooled thoroughly
(Watch them very carefully so that they don't burn!)
arils (seeds) removed from one fresh pomegranate (you'll have some left over)
optional: a few Cara Cara orange supremes
Assemble salad, sprinkling nuts and pomegranate seeds on top. Drizzle with dressing.
This is super flexible: change the nuts, add some cheese, substitute in different fruits, etc.