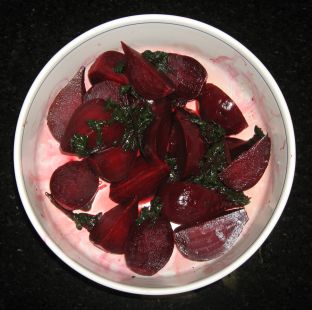 Fresh Beets with Greens
2 bunches fresh beets
1 aseptic box chicken (or vegetable) stock – about 4 cups
1 tsp. olive oil
salt to taste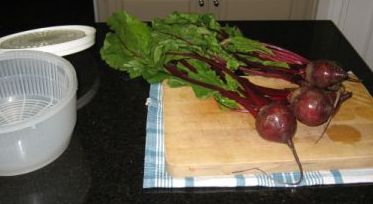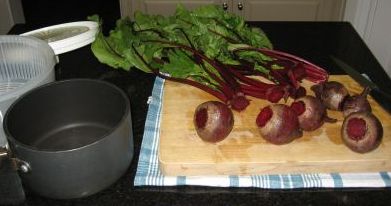 Cut beet roots away from greens. Scrub beets well and place in medium-sized pot. Pour stock over beets and heat to a simmer, covered, over high heat.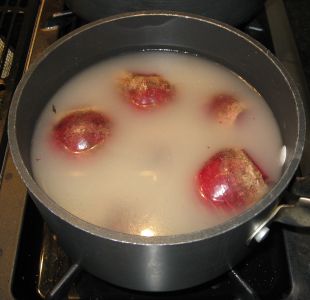 When beets come to a boil, reduce heat. Keep covered and simmer (15 minutes or so?) until beets are fork-tender.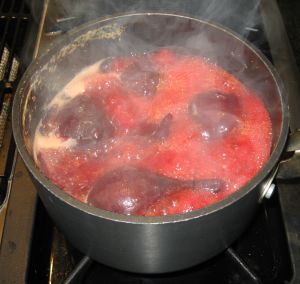 The stock will become BRIGHT RED. Watch out for splatters on your clothes.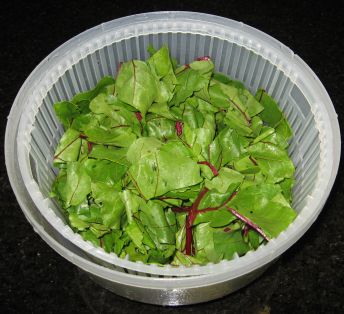 While the beets are simmering, cut the greens into bite-sized pieces (as if you were cutting romaine hearts for a salad). Rinse well and dry (in a salad spinner). If the beets are REALLY fresh (from a farm or farmers market), you will be able to use most of the greens. If they've been sitting at the grocery store for a while (or in your fridge for a while after you brought them home), you'll have to trim the leaves of the greens pretty judiciously. It's much better to buy beets really fresh right before you're going to cook them (especially if you plan to use the greens).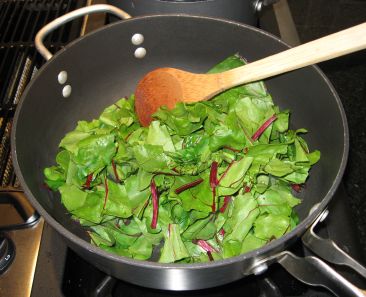 Heat a little oil in a medium-sized saute pan. Add washed and dried greens and saute until softened (5 minutes or more – it takes longer than you'd think – you want them to be more than just wilted). Remove from heat and set aside.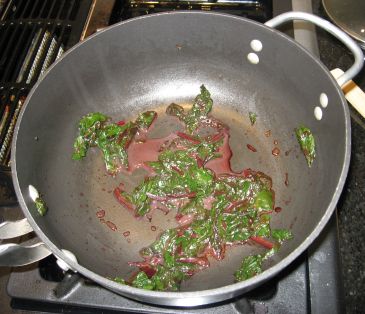 Check beets. If a fork will pierce them easily, they are probably done. You want them to be about the same as potatoes that you are cooking for potato salad – tender to the bite, but not mushy.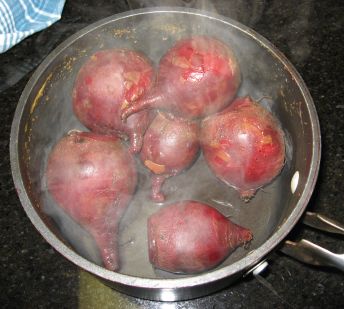 Remove beets from heat. Drain cooking liquid (it may have some grit in it from the beet skins and really shouldn't be reserved for another use, although it may be tempting to think about using it in borscht).
Let beets sit until they are cool enough to handle. As soon as you can, rub the beets (I use my thumbs) so that the skin comes off. This should happen in one, easy motion, in large pieces. If it doesn't, the beets may not be done enough. Once skins are removed, cut beets into serving sizes (you can halve or quarter them, or you may even choose to leave them whole, if they are small beets). Place in a serving bowl. Add greens to bowl (sprinkle salt in, if desired) and toss gently. Serve warm.
Here is an additional photo of some (small, golden) beets and greens that I made around February of this year. They were so beautiful that I had to take a photo at the time. My in-laws have a wonderful local organic farm and these beets (and the unusual green cauliflower) were from their place.