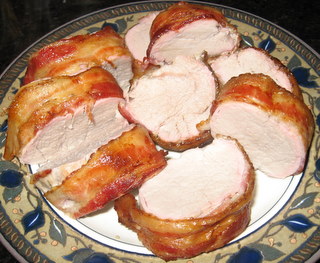 I made this recipe from Southern Living (April 2008) tonight and it was SO yummy. Not exactly South Beach-y, but it was Hubby's first night home from a business trip that required staying at a hotel with abysmal food, so I wanted to make him something nice. I sauteed some zucchini in a little butter and Baby Bam to go alongside.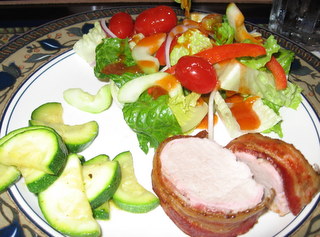 That's my Mom's Salad Dressing there. Yummy. Big hit with Girl.
We love our usual pork tenderloin recipe so much, that I was hesitant to even try another one. Seriously, I just thought that it wouldn't even be possible for another recipe to come close, but this was really good! It must be the delicate simplicity of the seasoning blend and baking/broiling procedure BACON that makes it so good! I know that I'm a little late to the party, but I have just recently "discovered" McCormick's Montreal Steak seasoning. I know that's a little like saying that I just "discovered" you can buy butter now, instead of churning it yourself, but, hey…I had never heard of it or used it before. I bought the lower salt variety (you can always add more salt) and it's really tasty. Honestly, I think if I had NOT used the low-salt variety in this recipe, it would have been too salty. It was perfect, as is. I did use more bacon than the recipe called for (about 10 slices) because 3 slices wasn't enough for the bacon to wrap all the way around (I separate the 2 tenderloins and bacon-wrapped and baked them individually). This will definitely be a "keeper" recipe. It was really simple (3 ingredients!) to assemble and easy to cook, though it does splatter a bit of bacon grease in your oven, so be prepared to do a little clean-up afterwards.
The tenderloin was so pretty, all trussed up with the bacon. It looked like a dragon roll.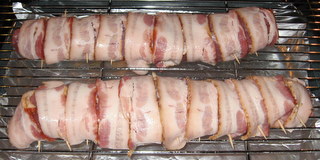 Tenderloin, wrapped with bacon before baking/broiling.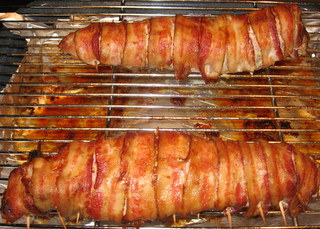 Tenderloin, after baking. This smelled great while it was cooking. The kids thought I was making "breakfast for dinner".
For dessert, I decided to spoil the kids a bit, too. We recently made the (3.5 hour) drive from Houston back to Austin (after our Alaska trip) and stopped in La Grange to pick up some "Dublin Dr. Pepper".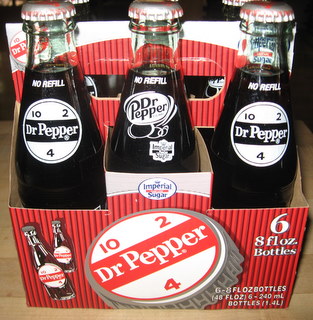 If you're not familiar, the Dublin bottling plant is one of the VERY few remaining in the country that still uses the "old" Dr. Pepper formula, without high-fructose corn syrup. They use pure cane sugar. In fact, the label has the little "Imperial Sugar" logo on it (made in Sugarland, Texas, where much of my family either lives or has lived, thankyouverymuch). Comparing "regular" Dr. Pepper to an old-fashioned "Dublin" Dr. Pepper is like comparing T-bone to tofu. The cane sugar sodas are just more subtle, not as overpoweringly sweet and just SO much more delicious. They are also only available in a limited distribution zone surrounding the bottling plant. Alas, they are not available in Austin, so whenever we make a pilgrimage toward Houston, we always have to stop and get some. Well, Girl has been asking for a "Dublin" float for dessert for quite some time, so tonight I made a batch of Mexican Vanilla ice cream and obliged. Those were a really big hit, too.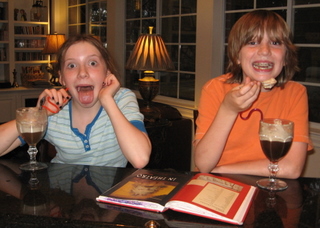 Overall, a good meal and a good night. Very nice to have Hubby back at home. This first week of school (one more day to go!) has been a little hectic and we're all tired and a bit cranky. We are all looking forward to an extended weekend this week.