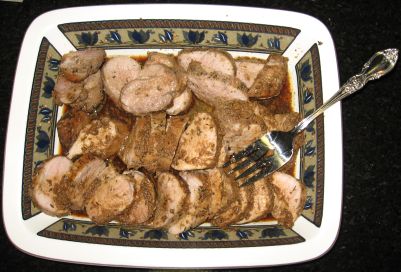 This is a truly great recipe – I can't recommend it enough. Thanks to Jennifer for reminding me about it – we haven't made it in a while. This is my #1 gun in my recipe "arsenal". Everyone that I have served this to has asked for the recipe. Kids love it, too. I've even made the marinade up and frozen pork tenderloins IN the marinade, so that if I pull a tenderloin out of the freezer in the morning (or the night before is even better), then it can marinate while it thaws. Any leftovers are amazing in a sandwich the next day (with a little horseradish). This is also a great food to take to someone that has had a new baby, death in the family, has been ill, etc., since it's so universally appealing. We have also taken this pork on a camping trip, with the meat frozen so that it would stay cool in the ice chest until the second camping night (our first night is always hot dogs, since we're so busy setting up the campsite, tents, etc.). We wrapped the pork in foil and cooked it in the coals of our campfire. My father-in-law especially loves this and has even cooked it on the grill. Mmmmm…..
Herb-Roasted Pork Tenderloin (adapted from Southern Living)
1/4 cup soy sauce
1/4 cup Worcestershire sauce
1/4 cup vegetable oil
1 teaspoon dried thyme
1 teaspoon dried marjoram
1 teaspoon rubbed sage
1 teaspoon garlic powder
1 teaspoon onion powder
1 teaspoon ground ginger
1 teaspoon salt
1 teaspoon pepper
1 (1 1/2-pound) package pork tenderloins
(NOTE: if you are watching salt intake, you may either omit the salt or use low-sodium soy sauce, but I would not recommend doing both. This recipe is MUCH better with a tiny bit of salt.)
Stir together first 11 ingredients in a heavy-duty zip-top plastic bag. Prick pork with a fork, and place in marinade, turning to coat. Cover or seal; let stand at room temperature 30 minutes, or chill 2 hours or up to one day (longer is better). Place pork in a roasting pan. (The original Southern Living recipe instructed to remove the pork from the marinade and cook it on a rack, but I found that it's MUCH more flavorful if you cook it with the marinade.)
Bake at 350° for 40 minutes or until a meat thermometer inserted into thickest portion registers 160° to 165°, depending upon your desired degree of doneness.
Slice tenderloin, spooning marinade over the top, or serving on the side. NOTE: Do NOT use marinade if you have not cooked the meat in it.
Yield: 8 servings
Sweet Potato, Apple and Sage Spoon Bread (click on title for recipe) This is another great Epicurious recipe.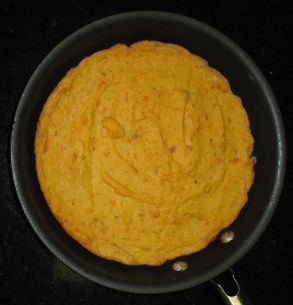 This was pretty yummy, fluffy, had a well-balanced flavor and was simple to make. Boy said he liked the consistency and said that it was a little like mashed potatoes, but Girl "didn't care for it". It has a really similar flavor to the Sweet Potato Gnocchi with Brown Butter and Sage, but not as rich. I guess that makes sense, because the two main ingredients (sweet potato and sage) are the same, except the gnocchi have a stick of butter melted over them! The cornmeal took much less time to absorb into the milk than the recipe instructed – I pretty much put the cornmeal in and it instantly "seized" and was absorbed into the milk. I did use lowfat (instead of whole) milk and yellow (instead of white) cornmeal, because that's what I had on hand. I'm not sure that the apple added much to the flavor, so you could probably omit that and substitute a little more sweet potato (or just omit it altogether) without losing anything. I made a half-batch, since I didn't need 10-12 servings, so it was only a half apple that I added, anyway.