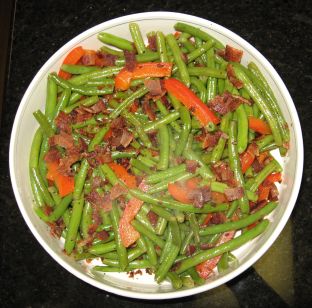 Green Beans with Bacon and Red Bell Pepper (click on title for recipe)
Another Epicurious recipe. Really easy and kid-friendly. One of my favorite things about Epicurious is that you can type in the ingredients that you have on hand and it will give you a recipe that uses them. Just a tiny splash of balsamic vinegar might have made this even better.
We have decided to let Girl play basketball this season. The rigors of volleyball season just about killed us (driving her to practices and games, remembering whose turn it was to bring snacks for the team, making sure that her uniform was clean and ready for each game, finding time for her to get her homework done and practice piano, etc.), but she is SO excited about playing that we finally relented. So….if anyone has any "quick dinner" ideas, please let me know. I am also going to be experimenting with some "upscale" Crock Pot recipes. I'm usually not a fan of the standard "throw some meat and potatoes in the pot with some cream-of-something soup" fare, but I believe there have GOT to be some better alternatives out there, and I'm determined to find them.