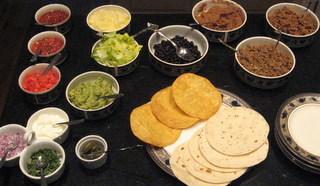 We had a fun dinner last night to celebrate the kids coming home. I tried 2 different taco seasoning mix recipes to see which I liked better – I don't like the pre-mixed seasoning "packets" because they have too much salt for my taste and also sometimes have MSG. I prefer to mix my own seasonings, anyway, since I usually have all of the individual ingredients on hand, anyway…
So, we tried these two recipes:
Taco Seasoning Mix from Cooks.com
Lawry's Taco Seasonings Clone from TopSecretRecipes.com
On balance, we liked the Top Secret Recipes version better; it was moister and had better flavor. All of us except Boy found the Cooks.com version WAY too salty.
I also would probably prefer to use my own fresh onion and garlic, since I always have those on hand, instead of garlic powder and dried minced onion.
Here's my suggestion, untested as of yet, but I'll give it a try the next time that I make tacos. I think that it will take the best qualities of each recipe.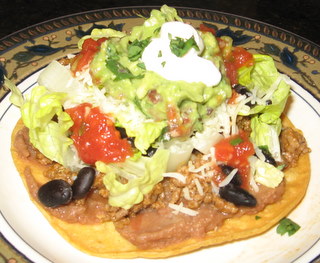 Homemade Taco Seasoning Mix
1 Tbsp. flour
1 1/2 tsp chili powder
1 tsp paprika
1/2 tsp salt
1/2 tsp ground cumin
1/4 tsp ground cayenne pepper
1/4 tsp sugar
1/4 tsp dried oregano leaves
1 large clove garlic, minced or pressed
2 Tbsp. finely chopped fresh white onion
1 pound ground beef
2/3 cup water
Combine all of the dried spices in a small bowl (can be placed in a tightly sealed plastic container or zipper bag until needed).
Brown ground beef with onions until no more pink is visible and meat is crumbly. Add garlic and cook about 1 more minute. Drain fat (I usually also pour very hot water over it in the colander, to remove residual grease). Return meat to pan. Add spices and water and cook, stirring occasionally, until water is almost all absorbed and a thick "sauce" has formed.
If you prefer to use dried onion and garlic, you may use 1 tsp dried minced onion and 1/4 tsp garlic powder, instead of the fresh.