Well…we've had some schedule changes this week. Our dinner plans for tonight were postponed because my grandfather wasn't feeling well (I hope you are better soon, Pappaw – I love you!) and so I decided to go ahead and cook Sunday's menu for us tonight, since I already had all of the ingredients on hand. I'm glad that I did, because the sausage was a little spicier than I thought it would be and I think it might have been a little bit much for Girl and Boy. Also, the matinee show that we were going to see on Sunday is sold out, so we're going to see it Monday night, instead, which probably means that I won't cook Monday night, so we'll be shifting a bit this week, anyway.
So, this recipe was my "inspiration", but I adapted it A LOT.
Here's my version: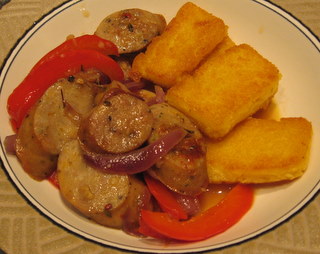 Sausage and Peppers with Polenta
NOTE: Advance preparation (one day ahead) required.
3 1/3 cups polenta
1 box chicken stock (4 1/2 cups?)
1/4 tsp salt
about 1 cup freshly grated Parmesan cheese, divided
2 packages chicken sausage (I used one Chicken-Mushroom and one Chicken-Spinach-Feta), sliced on a slight diagonal, into "rounds"
2 red bell peppers, sliced into medium strips (1/2 inch thick?)
1/2 red onion, very thinly sliced
3 – 4 garlic cloves, minced or pressed
approximately 1/4 cup olive oil
1/4 tsp dried thyme leaves
olive oil
Pour 2/3 cup of the chicken stock into a small container and set aside. Lightly grease a bread pan (I think mine is 9 X 5?). Bring the rest of the stock to a simmer in a medium-sized saucepan. Add the salt and then pour in the polenta, in a slow, steady stream, stirring constantly. Lower the heat and cook until the polenta is thickened and is pulling away from the sides of the pan. Gently stir in 3 Tbsp of the Parmesan cheese and then pour the polenta into the bread pan. Refrigerate until solid (overnight?).
Preheat oven to 400 degrees. Remove the polenta from the refrigerator and unmold it onto a cutting board. Cut the polenta crosswise into slices about 3/4 inch thick and then cut each slice in half from top to bottom, forming small "planks".
Saute the sausage coins in a large saute pan with a little olive oil, turning once to brown evenly on both sides. When all of the sausage slices are lightly browned, remove them from the pan (reserving the oil in the pan) and place them in a large ovenproof dish (something that would hold about the same amount as a 9 X 13 pan – shape doesn't matter – whatever you've got that's about that size is fine) and set aside. Saute the onions over medium-low heat in the same pan that you cooked the sausage in until they're thoroughly softened and started to lightly brown/caramelize. Pour them in the baking dish over the sausage, still reserving the oil in the saute pan and adding more olive oil, if necessary. Saute the peppers in the pan until they're lightly softened (cook them to your desired doneness – some people like them to still be a little crunchy, but some people like them completely soft and starting to brown) and then add the garlic and cook for about 1 minute, until the garlic is softened but not browning. Add the peppers and garlic to the baking dish. Sprinkle the sausage mixture with the thyme and then pour over the reserved chicken stock. Season with salt and pepper, if necessary (the sausage that I used had a LOT of both salt and pepper, so it didn't need any additional seasoning). Place in the oven to re-warm/meld.
While the sausage mixture bakes, heat some more olive oil (just enough to coat the bottom of the pan) to medium-high heat and saute the polenta planks, turning once, until they are warmed through and lightly browned on both sides.
When the polenta is all cooked, remove the sausage from the oven and serve in wide, shallow bowls. Spoon a bit of the pan drippings over each serving and add a few polenta planks to the size. Sprinkle each portion with some of the reserved Parmesan cheese.
This is definitely "make your guy happy" food.