Girl just won the spelling bee at her school! The last two contestants were Girl and her good friend, C. They went head-to-head for about 8 rounds, and smiling and cheering each other on. Here's the kicker: the word that got best friend eliminated? Crescendo. The word that Girl had to spell, after that, to win? Staccato.
Girl is over the moon and will go on to compete at a district-wide bee in a couple of weeks.
FYI – Good friend C. is super-smart, very sweet and an amazing speller. She stayed in the bee last year much longer (3rd place!) than Girl did, so this was truly anybody's game and either girl would have been thrilled to have the other one win. I am taking both girls (and Girl's cousin, A) to the Hannah Montana concert tonight to celebrate. YAY!
Celebratory Lunch: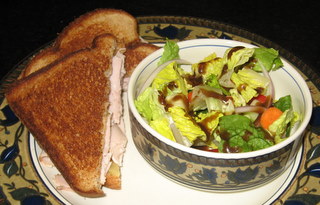 Grilled Herb-Roasted Turkey and Pepper-Jack Cheese with a baby salad with Balsamic Vinaigrette