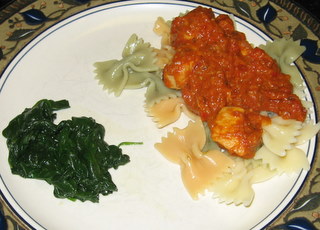 Chicken Paprikash, adapted from this Cooking Light recipe
1 Tbsp. canola oil
1 pound boneless, skinless chicken breasts (about 2 medium sized breasts), cut into bite-sized pieces
1/2 tsp. Baby Bam seasoning
1 cup chopped white onion
1 cup chopped red or green bell pepper
2 pressed garlic cloves
1 Tbsp. paprika
(add a little sprinkle of pimenton, too, for extra smoky flavor)
1 Tbsp. tomato paste
1 (14.5 ounce) can diced tomatoes, undrained
1/2 cup chicken stock
1 tsp. caraway seeds
1/2 tsp. kosher salt
a sprinkle (1/4 tsp?) freshly ground pepper
1/4 cup half-and-half
2 scoops sprouted ground flaxseed (available at Costco)
1/2 pound pasta or egg noodles, cooked and drained
Heat the oil in a large skillet or saucepan over medium-high heat. Sprinkle the Baby Bam over the chicken pieces and toss/stir to coat. Add chicken to the pan and cook, stirring occasionally, until browned on all sides, about 5 minutes. Remove the chicken from the pan and set aside. Add the garlic, onion and bell pepper to the pan and cook, stirring frequently, until softened (about 3 minutes). Add the paprika, chicken stock, tomatoes, and tomato paste to the pan and cook for 5 minutes or so, turning down the heat, if necessary, to prevent bubbling over. If you would like for the sauce to be smoother and less "chunky", use an immersion blender at this point (right in the pan) to puree the sauce. Add the caraway seeds and half-and-half to the sauce and season to taste with salt and pepper. Stir in the ground flax. Stir to blend completely. Return the chicken to the pan and continue to simmer (5 to 10 more minutes) until the sauce is nice and thick, the chicken is cooked through and the flax is completed mixed in. Serve over the cooked pasta, with sauteed spinach on the side.
Sauteed Spinach
1 lb. fresh baby spinach leaves
2 Tbsp. olive or canola oil
Baby Bam seasoning to taste (1 to 2 tsp.)
Heat the oil over medium-high heat in a VERY large saucepan. Add the spinach, a little bit at a time (it will shrink CONSIDERABLY as it cooks). After all of the spinach is added and has started to wilt a little, sprinkle the Baby Bam over it, stirring (I like to use tongs) to incorporate. When all of the spinach is at least partially wilted (you don't have to cook it to death), remove it from the heat and serve.