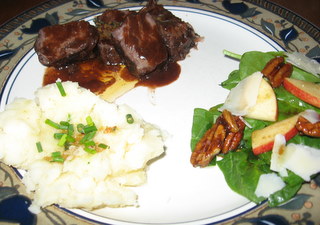 Little Brother and his wife came over for our early Christmas celebration last night and I decided to make this recipe by Laurent Tourondel. I've had it tucked away for a few months, meaning to try it. A recipe that calls for 3 BOTTLES OF WINE?! What's not to like?
I used 8 shortribs, instead of 6, because that was how many that were in the package that I bought (from Costco). I had a TON of the (very indulgent) sauce left over and am going to find something to use it for. It may end up being the base for a stew or becoming some sort of soup – we'll just have to see. The browned butter was a little superfluous, but it was good on the mashed potatoes. If I make that again, I will add the garlic at the very end, because the garlic ended up getting a little overbrowned and bitter before the butter browned.
The salad was just baby spinach, thinly sliced apple, shaved parmesan and balsamic-glazed pecans with a balsamic vinaigrette.
Little Brother brought over pies: one chocolate-coffee-pecan and one peanut butter-chocolate (LB had roasted and ground the peanuts himself to make the peanut butter!). Mmm…
AND, LB and his wife bought me this for Christmas, which I have been wanting FOREVER – thanks!