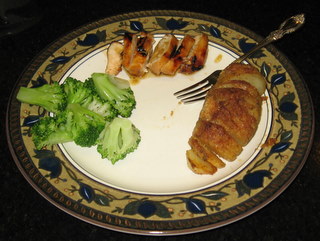 Adult plate.
I was at a bit of a loss for inspiration for dinner last night, so I pulled this recipe out of my trusty old file folder. It was easy and was kid-friendly and actually, quite yummy as well. I doubled the recipe, but it wasn't really necessary – I think that the amount of marinade/sauce in a single batch would be plenty, even for 4 chicken breasts.
As for the potatoes, I saw Paula Deen and Robert Irvine cooking appealing Hasselback potatoes on a recent Food Network Holiday special, but when I went looking for the recipe, I found that the reviews on their version of the recipe weren't great and went looking for another version. I found one by Nigella Lawson that looked potentially bland and a few others that looked too complicated, but when I saw this one by Emeril, it looked like a winner. His recipes can usually be relied upon to turn out well. I (of course!) did add a bit of Baby Bam seasoning (it WAS an Emeril recipe, after all!). The potatoes took a little longer than the time stated in the recipe to be cooked through, but they were tasty.
I normally have a hard-and-fast "no TV during dinner" rule, but the kids have both been sick and have had a bit of a tough week, so we watched a bit of the new Harry Potter "Order of the Phoenix" DVD while we were eating last night. I do have these great "snack plates" that we hardly get to use, otherwise. Every once in a while, you have to know when to bend the rules, right?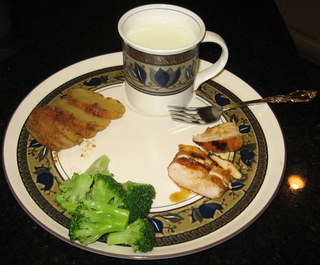 Kid plate.
I popped an apple pie (recipe right off the box of Pillsbury pie crust) in the oven while the potatoes were cooking, so we had a warm dessert, too. It turned out a little messy (Hubby is a great pie crust "crimper" but he was working on another project last night, so I was in the kitchen alone), but it was yummy and was perfect for the rainy weather we had yesterday.