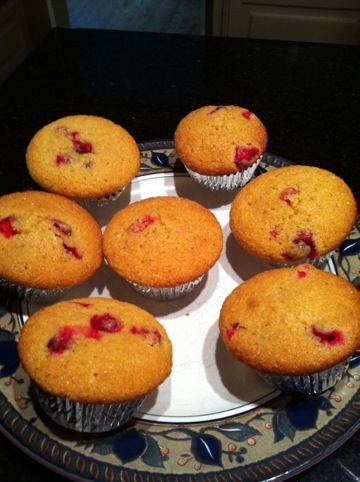 These are a recipe that my mom used to make for me when I was a kiddo.  When I saw all of the beautiful, fresh cranberries in the store this year, while preparing for Thanksgiving, I finally thought to ask her for the recipe.  They are SO good:  crispy and crunchy on the outside and moist and zesty on the inside, with the gorgeous color and tang of the cranberries punctuating throughout.  Yum.
FYI:  Fresh cranberries can easily be frozen for future use (you can even toss them into this batter while still frozen.)  Just rinse them with cold water, discarding any unsightly withered ones, then gently spin them dry in a salad dinner.  Spread them out on a cookie sheet to freeze them.  When they're individually frozen hard, store them in a tightly sealed ziploc until you need them and you can easily pour out just the amount that you need.
Cranberry Orange Cornmeal Muffins
1 cup flour
1 1/2 cup cornmeal
1 cup sugar
1/2 tsp. salt
1 tsp. baking soda
1 cup fresh cranberries, washed and patted dry
1 cup vegetable oil
2 eggs
2/3 cup buttermilk
2 Tbsp Grand Marnier liqueur or orange juice
1 tsp freshly grated orange zest
Preheat oven to 375 degrees.  Grease 12-cup muffin tin or use paper muffin liners.  (Good idea to have a second tin on hand, as I find that the recipe actually makes 15 or 16 muffins.  Also a good idea to grease the top, flat surface of the pan, even if you use liners, as they might stick a little there.)
Whisk together dry ingredient (flour, sugar, cornmeal, salt, soda.)  In a separate bowl (or 4-cup glass measuring pitcher,) whisk together the remaining wet (buttermilk, oil, eggs, liqueur or juice and zest) ingredients, reserving the cranberries to the side.
Pour the wet ingredients into the dry ones, then add the cranberries.  Stir gently until the batter is moistened, but still lumpy.  Measure into muffin cups (an ice cream scoop with release lever works beautifully to ensure consistent size) and make until the tops are golden brown (about 20 minutes.)  Let sit in the pan 5 minutes before removing.
I also made a batch with blueberries, for my son and Hubby, who aren't cranberry fans.  Silly boys.