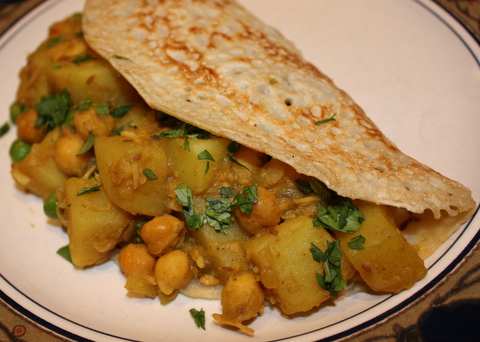 Recipe here.*
Yum, yum, yummity yum yum yum.
This is the first thing that I've made in a while (other than spring rolls) that the whole family has agreed upon.  Usually, I'll make a vegetarian dish that Boy won't enjoy because it isn't satisfying enough for him, or I'll make a meat dish and two hearty side dishes, hoping that Girl can make a meal out of just the sides, and then she won't feel like she's really eaten a "meal," but rather just snacked on sides.
This is spicy and warm and filling enough to be satisfying for all but the most stalwart carnivores and is definitely healthy and wholesome enough to satisfy any vegetarian.  This definitely "feels" like a main course.
I, of course, made a few VERY slight modifications to the original recipe:
I used russet potatoes because I couldn't find organic Yukon Golds and didn't want to use "pesticide" potatoes, but I discovered that russets take a bit more time and liquid to cook than gold potatoes, so be aware of that if you decide to change up your potatoes, too.
I added another cup of chickpeas that I had leftover, just to bulk up the protein quotient for Vegetarian Girl.
I added just a bit of garam masala when I added the curry-ginger-garlic mixture, just to add a bit more flavor and some brightness (a few of the epicurious reviewers mentioned that the masala was a little bland.)
I also sauteed the onions in the pan BEFORE adding the curry-ginger-garlic mixture because I am personally not wild about onions that are not thoroughly cooked.  The only raw onions that I can tolerate are red onions or green ones; white or yellow ones must be thoroughly cooked and softened for me.
I also added a bit more water to the dosa batter, because several epicurious reviewers had mentioned that the batter, as specified, was a bit too thick.  I agree and think the extra water is crucial.  Getting the hang of making the dosas is a little bit tricky (I had to throw the first one away,) but keep experimenting (make another batch of batter, if you need to,) and you'll get it.  I think if I hadn't needed to throw the first one away, and if I hadn't added extra water, then the batter probably would have made four dosas, but I ended up with 5 (made 6 and threw one away.
* This recipe is originally from November 2009 Gourmet magazine.  There is a new issue out called Gourmet Quick Kitchen that has recently reprinted it.