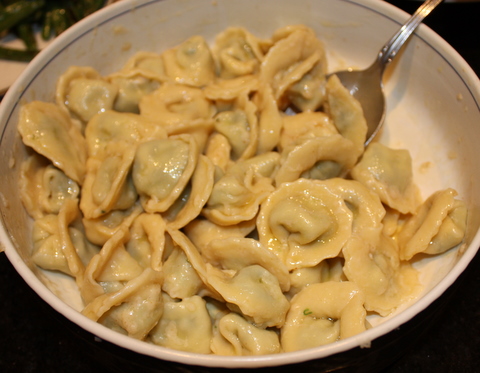 Recipe here.
I knew when I saw this recipe that, as appealing as it looked, it was going to be a fair amount of work.  I've had it sitting in the "someday when we have a lot of free time on our hands" pile for quite some time, just waiting for the perfect day.  I  knew that the kids would want to help with the stuffing and rolling, so it had to be a time when every one was home (difficult) and didn't have other compelling things to do (near-impossible.)  It was time-consuming, but not terribly, and it took a little patience to get the hang of rolling the tortelli, but it was easiest than I thought and we were more successful than I had feared we might be.  All of the tortellis remained intact during cooking (I cannot boast this level of success with previous homemade ravioli attempts) and they were VERY tasty.  Well worth the effort and definitely something we will be doing again.  After running the pasta disks through the pasta machine, they became VERY long and unwieldy strips, so I cut them in half, but that turned out to be a mistake later, because I was not able to cut as many dough circles out of them.  We consequently had about a third of our spinach-ricotta filling left and our batch of dough made less tortellis than the recipe specified.  I'll correct this next time by using a slightly larger circle cutter (I have another one that is 3 inches across) and using slightly more filling in each one.  We'll be trying this again (now that the kids have mastered tortelli-shaping) and maybe experiment with different fillings and/or sauces.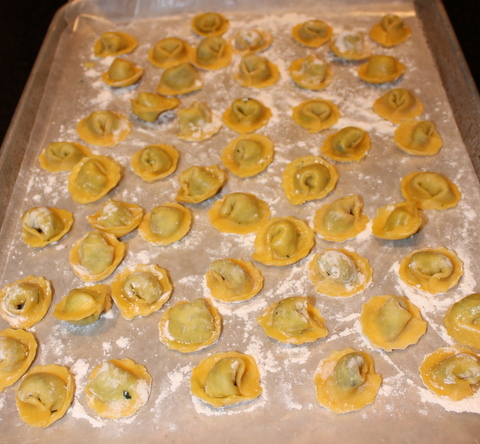 Our batch only made about 52 tortelli, although the recipe states approximately 80.  I think I know what we did wrong, though, and will correct this next time.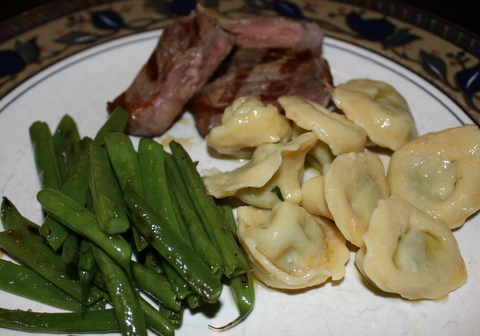 We served the tortelli with some sauteed green beans and a grilled New York Strip steak (we just buy one steak and cut it into small strips to split three ways, amongst the carnivores in the family.)  Vegetarian Girl just had green beans and pasta.
We also sipped a lovely Syrah-Sangiovese blend that we brought back from Italy last summer.  We were saving it for a special occasion and figured that making our own stuffed pasta from scratch qualified as one.