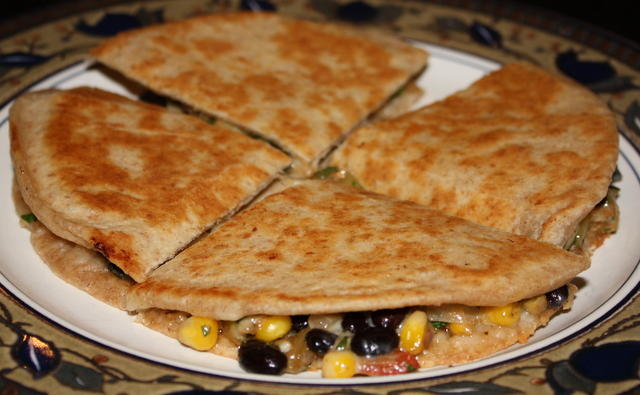 Quesadillas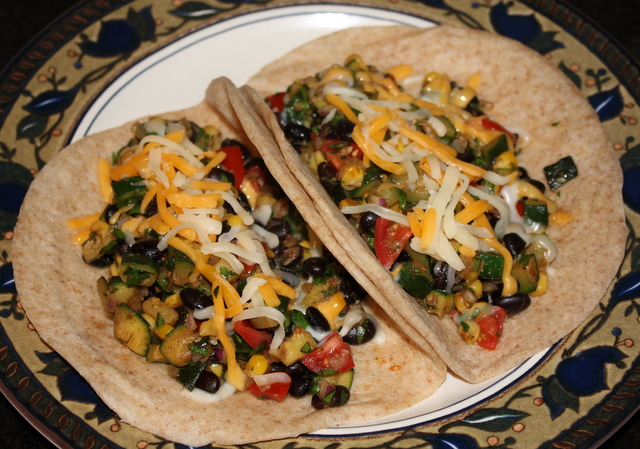 Tacos
Zucchini-Corn-Black Bean Filling:
a few Tbsp of vegetable oil
3 cups frozen corn kernels, thawed and drained
3 large zucchini, diced
1 cup finely chopped onion (red or white, your choice)
3 cloves garlic, pressed or minced
2 cups roughly chopped fresh tomato (optional)
1 can black beans, rinsed and drained
Other ingredients:
Wheat tortillas (I *LOVE* the whole-wheat ones from Central Market.)
Your choice of cheese:  queso fresco, Monterey Jack, cheddar, Colby-Jack, etc. , grated or crumbled
Your choice of other (optional) garnishes:  sour cream, chopped cilantro, fresh or canned jalapenos, guacamole, salsa, etc.
Pour about 1 Tbsp oil into the bottom of a large skillet and swirl the pan to lightly coat it.  Heat over high heat, then add the corn.  Cook the cook for about 5 minutes, stirring occasionally, until the corn is warmed through and has some slight charred marks on the edges.  Season with a tiny bit of salt.  Remove the corn from the pan and set aside.
Add a bit more oil to the pan and repeat this same process with the zucchini.  Remove from the pan and set aside.
Add a bit more oil to the pan and the add the onion.  Cook the onion, stirring, until is it totally softened and starting to caramelize, about 5 minutes.  Add the garlic and cook, stirring, for one more minute.  Add the tomatoes and cook for about 5 more minutes.  Return the corn and zucchini to the pan and stir.  Gently stir in the rinsed and drained beans and cook another minute or two, until filling is warmed through.
If you're making tacos, spoon the warm filling into the tortillas.  Top with cheese and your choice of garnishes and serve.
If you're making quesadillas, warm a very large, flat-bottomed pan or a griddle over medium-high heat and melt a little bit of butter onto it and spread it around to lightly coat the cooking surface.  Place one tortilla on the pan (or griddle) and sprinkle a bit of cheese over it, trying to keep the cheese on the tortilla, rather than into the pan (watch your fingers!).  Top the tortilla with a generous layer of the zucchini/black bean/corn mixture.  Top with another small layer of cheese and a second tortilla.  Cook, adjusting the heat as necessary to insure that the cheese melts and the filling stays warm, until the bottom tortilla is golden brown.  Quickly spread a very thin layer of softened butter on the top tortilla.  Carefully flip the quesadilla and repeat the cooking process until the tortilla that is now on the bottom is golden brown and starting to lightly crisp up.  Remove the quesadilla from the pan and cut into wedges.  Top with your choice of garnishes and serve immediately.
This was VERY yummy and fairly healthy.  A hit with the carnivores, but completely vegetarian.  The quesadillas can make a great healthy snack, if cut into wedges and shared, but are hearty enough to be a filling meal.
The quantities are very flexible, according to your taste.  Around here, omelets and quesadillas are a great way to use up any leftovers that we might have on hand.  Don't like tomatoes?  Leave 'em out.  Have a bit of leftover spinach? Throw it in.  Want to add some chicken?  Do it.  Like it spicier?  Add some minced fresh jalapenos or serranos to the filling.  Cilantro?  Go for it.  You really can't mess this up.
The only "MUST" is that you need to make sure that the corn is completely thawed before you cook it to be sure that it gets a tasty char on it.  You can nuke it and then drain it, if you need to, but just be sure that it's thawed and not soaking a lot of liquid.
# of servings will vary, according to how much filling you put into your taco or quesadilla, but we used two tortillas per person (an adult "serving" is one quesadilla or two tacos) and had plenty of filling to feed four hungry people, with a bit left over for lunch the next day.  We used approximately 1/4 cup of cheese per person.  Your mileage may vary.