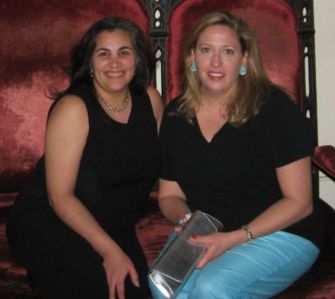 2 Hot Mamas (Best Friend and me) at the Columbia Restaurant in St. Augustine
Best Friend and I went to Jacksonville, Florida last weekend for some "Girls' Weekend" R & R. It was a lot of fun and it was great to catch up (she lives 1500 miles away). We spent the first night with some dear friends of hers who are charming hosts. They made us a delicious dinner of chicken with artichokes and sun-dried tomatoes and wonderful breakfast. They weather was a little chilly, drizzly and cloudy while we were there, but we had a great time, anyway – the hotel bar made GREAT, spicy Bloody Marys and there was a Starbucks IN THE HOTEL – what more could you ask for? We spent some time at a spa, having things polished and waxed and ate lots of great food (mmmm….seafood). We went on a "Ghost Tour" in St. Augustine one night, too – spooky! We had a fabulous dinner of tapas at the Columbia Restaurant in St. Augustine. Their mojito is the best I've ever had, their black bean cakes were scrumptious and they had some mussels with chorizo that were AMAZING. I think I'm still in a "Spanish" kind of mood, still dreaming of my favorite show, "Top Chef" and winner Ilan Hall's Spanish bent. There is a huge feature on him in this month's Food & Wine magazine. I can't wait to try his recipe for Fideo Cakes with Shrimp and Chorizo.
I attempted to copy the artichoke chicken recipe for dinner last night. The recipe was originally from a package of Knorr French Onion soup (recipe here), but I adapted it quite a bit to try to eliminate a little salt and fat.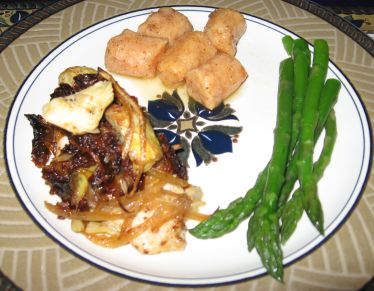 Baked Chicken with Artichoke Hearts and Sun-Dried Tomatoes
4 boneless, skinless chicken breasts
2 Tbsp. olive oil
1 cup thinly sliced white onion
2 cloves garlic, pressed or finely minced
1/3 cup sliced sun-dried tomatoes
4 artichoke hearts
1 tsp. Italian herb seasoning (or make your own with a bit of oregano, rosemary, basil, etc.)
sprinkle of salt and pepper
a bit (1/2 cup?) of chicken stock
Preheat oven to 350 degrees. Place tomatoes in chicken stock to soak and soften. If they don't soften quickly enough, microwave them for one or two minutes (in the stock). Lightly spray baking pan (approx. 13 X 9, or slightly smaller) with cooking spray. Place chicken in pan and lightly season it with salt and pepper. Saute onion in olive oil over low heat, stirring gently and frequently, until onions are softened and very lightly browned. Gently fold together garlic, herbs, artichokes, softened tomatoes (with stock) and browned onions. Place a mound of this mixture on top of each chicken breast and bake for 20 – 25 minutes, or until chicken breasts are thoroughly cooked.
My adaptations from the original recipe:
Boneless, skinless chicken breasts, instead of the bone-in ones.
Dry tomatoes, instead of oil-packed.
Water-packed artichoke hearts, instead of the ones in marinade, adding herbs for flavor.
I think all of the substitutions were OK, except for the dry tomatoes. There is just nothing that can substitute for the chewy texture of the oil-packed ones. Mine tasted fine, but were too soft.
This recipe was VERY easy and a really big hit with me and Hubby. Boy and Girl liked it, too, but Boy ate the artichokes and Girl ate the tomatoes – no big surprise there.