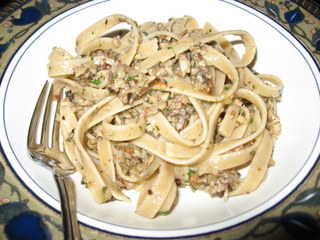 Finished dish (missing the creme fraiche…if you make it exactly according to the recipe, yours will be "creamier")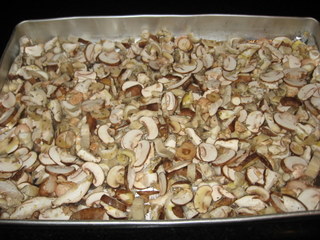 Mushrooms, before roasting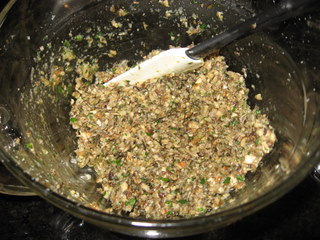 Finished pistou
I found this fabulous recipe (recipe here) on Serious Eats. It was written by Kerry Saretsky, whose recipes are a never-fail for me. This girl knows her stuff. My favorite Salmon with Lentils recipe is hers, too.
The Girl has recently become a vegetarian, so it has required some creativity to please her at the dinner table, while keeping my two resident confirmed carnivores happy. This dish is rich and hearty enough to be a vegetarian main course (round it out with some salad and a nice dessert,) but is light and healthy enough to be a first (pasta) course, if served in small portions.
OK, now confession time…I didn't do the prosciutto crisps and the herb chips, because it was just too fussy for your ordinary weeknight. If, however, I were serving this for a dinner party, etc., I would absolutely do them. I also completely goofed up and forgot to add the creme fraiche. At all. And it was still fabulous. Obviously, if I do it again, I will definitely add it, because…pass up creme fraiche? Intentionally? I don't think so.
Oh, also? I used linguine pasta because I couldn't find the brand that I wanted in spaghetti pasta.