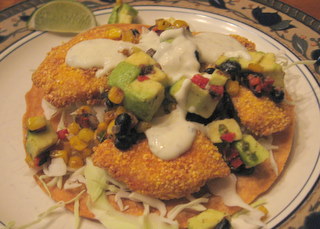 This recipe from Cooking Light magazine is a definite winner. To adapt it for The Girl, who is now a vegetarian, I added some black beans (canned, drained and rinsed) to the corn relish (she made her tostadas without fish.)
These were delicious. A little messy (to cook, not to eat), because I fried the tortillas, instead of oven-broiling them, but VERY yummy and still healthy.
We also added some Rosie's fresh tomato salsa. Because it is awesome.