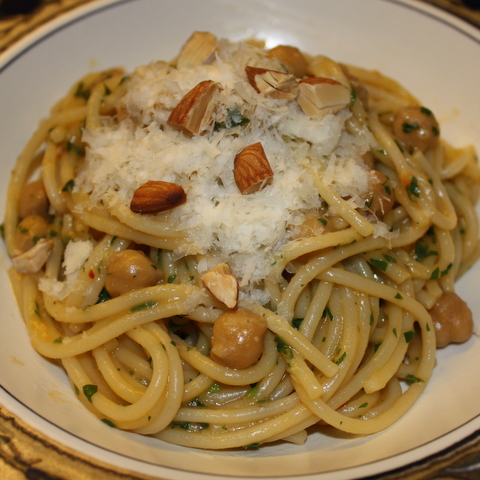 From January 2008 Real Simple magazine.  Recipe here.
This was quite good and was ridiculously fast and easy.
A one-pan pasta meal?  Unheard of!
I used spaghetti instead of vermicelli, because I already had some.  It took a little longer than 6 minutes to cook, but not much more.  The reduced stock makes a tasty, glaze-y sort of sauce.
The crushed red pepper adds a bit of a kick, so if your family/kids are particularly heat sensitive, feel free to cut back a bit.  Those that like more spice can always add more at the table, although the amount of heat wasn't too much for my kids at their current ages, it might have been "too spicy, Mom!!!" when they were younger.
We, of course, used vegetable stock to accommodate the Veggie Girl, but I will say that, although this pasta was very nice, it would have been MUCH better with chicken stock instead.  If you're a carnivore, a bit of cooked, crumbled bacon on top would have been pretty fabulous, too.  We served it with salad topped with balsamic vinaigrette and garlic croutons.