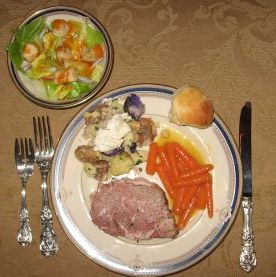 Christmas Day Lunch Menu:
Romaine Heart Salad with Roasted Red Pepper Vinaigrette
and Emerilized French Bread Croutons (recipe follows)
Suzanne Goin's Slow-Roasted Prime Rib Roast
(from December 2006 Fine Cooking magazine)
Smashed Fingerling Potatoes with Horseradish Creme Fraiche
(from the same issue, but here's a synopsis)
My mother's Orange-Glazed Carrots
(recipe follows)
My mother's Jailhouse Rolls
(explanation and recipe will follow in next post)
This roast was SOOOO good.
The actual recipe is not available on Fine Cooking's website, but here is some info. from the article: http://www.taunton.com/finecooking/pages/c00251.asp
The Prime Rib recipe is available here.
It's worth a visit to Fine Cooking mag to get the back issue, though, for the potato recipe and lots of other great stuff (http://www.taunton.com/store/pages/backissue_fc.asp). That was a particularly good issue.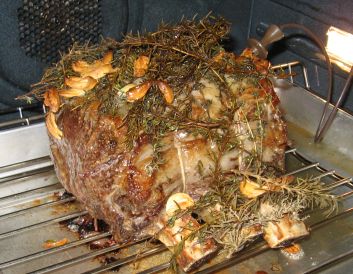 The "Roast Beast", as we called it, in the oven.
I would definitely recommend it and would make it again in a heartbeat. My only reservation was the cost of the meat. The roast that I used was a little over 6 pounds and cost $80!!! Prime Rib is so tender and juicy that it was definitely worth it, but I think that the flavor profiles of the herbs, garlic, etc. were so good that this recipe would definitely be worth trying with a "lesser" cut of meat for a more everyday meal. The horseradish cream from the potatoes was GREAT on the roast, too.
Roasted Red Pepper Vinaigrette
1/4 cup white balsamic vinegar
1/2 cup olive oil
1 clove garlic, pressed through a garlic press
3 Tbsp. roasted red pepper puree
(just pop the peppers in the blender – if you use jarred ones in oil, be sure to drain the oil first)
salt and pepper to taste
Whisk together vinegar, garlic and pepper puree in a high-sided bowl. Whisk continuously while slowly pouring in olive oil. Salt and pepper generously – remember that each salad will only have a bit of the dressing, so will only have a bit of salt and pepper on it.
This basic vinaigrette recipe can be adapted to almost any flavor combination. One of Girl's favorite recipes is raspberry vinegar and a bit of raspberry coulis instead of the peppers (omit the garlic) to make a Raspberry Vinaigrette.
"Emerilized" French Bread Croutons
1/2 loaf French bread (not baguette, but the larger, softer type)
about 4 Tbsp. melted butter
about 1 Tbsp. Emeril's Baby Bam seasoning
(recipe here)
Note: You may need a little more or less butter and seasoning, depending upon the size of your loaf of bread.
Preheat oven to 250 degrees.
Cut bread into bite-sized cubes (your choice, but I like them on the chunky side). Toss bread cubes with the butter in a large bowl. Sprinkle with the Baby Bam until each cube has a light coating of seasoning on it. Toss again until butter and seasoning are evenly distributed. Bake on an ungreased sheet pan until lightly crunchy and VERY lightly browned (20 – 30 minutes), gently stirring/tossing/turning about every 10 minutes. You will need to watch them carefully. Allow the croutons to cool before adding them to your salad. Store any leftovers in an airtight container or zipper bag.
(Emeril's Baby Bam seasoning is really yummy and is good as an all-purpose seasoning on lots of different things. It's worth the extra step to mix up a batch.)
Orange-Glazed Carrots
(Thanks, Mom!)
1 1/2 cups orange juice
1/2 cup brown sugar
1 1/2 Tbsp. butter
1 Tbsp. cornstarch
1/4 cup cold water
pink of ground ginger (or garlic, if preferred)
1 pound fresh carrots, peeled and sliced on the diagonal into 1/2 inch pieces
(or 1 pound whole baby carrots)
Steam carrots until tender but still slightly crisp; set aside. Mix juice, sugar and butter in a small saucepan. Cook over medium heat, whisking frequently, until it gently bubbles. Mix water with cornstarch until there are no lumps, then add to the juice mixture. Cook until thickened. Add ginger (or garlic). Pour over carrots.