Buttermilk Oatmeal Muffins from Sweet Savory Southern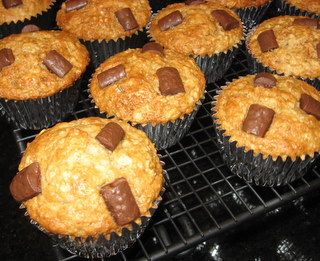 Easy and tasty, but also lowfat and loaded with fiber. The buttermilk gives a subtle tang and the tops are nice and crusty. If you're in a hurry, the buttermilk and oatmeal can soak in the fridge together overnight, to eliminate the 15 minutes soaking time in the morning.
These would be good with lots of other adaptations, too. I'm not sure that the chocolate adds a whole lot, but cinnamon would be good or your favorite dried fruit or toasted nuts. Would be nice with some mashed or chopped banana, as well.