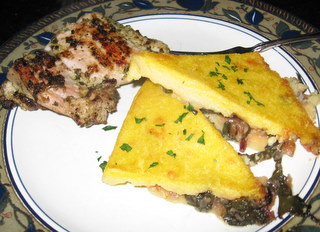 Polenta, served with some pesto-grilled chicken thighs for the carnivores…
This meatless recipe from Serious Eats was tasty and not too difficult (although it does require some advance prep and a few hours of chilling time,) but the wine flavor (I used a light Pinot Noir) in the greens layer was a little too strong for the little people that live at my house. I like this preparation of polenta, but may experiment with sandwiching different things in the polenta layers, like possibly a sun-dried tomato concoction or sauteed mushrooms or maybe spinach (or another green without the wine.)
The greens looked gorgeous as they were cooking (beautiful color!)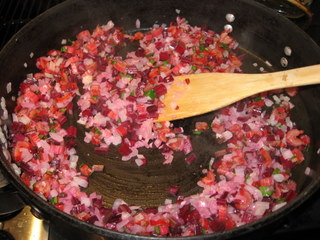 Onions and garlic with beet and chard stems.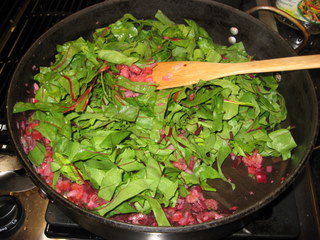 Adding the greens.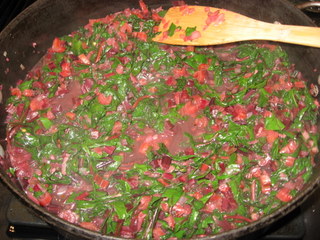 The greens, pretty much fully cooked. I continued to cook them until the liquid was pretty much dry, because I wanted to be sure the alcohol cooked out and because I didn't want the greens layer to be soupy and risk it separating when I cut the polenta.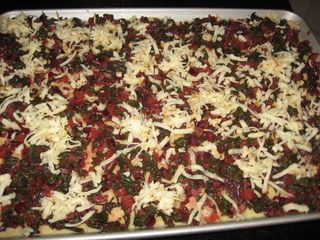 Layering the polenta, greens and cheese. I used smoked mozzarella, because I had no idea what Caciocavallo was and didn't want to go on a search.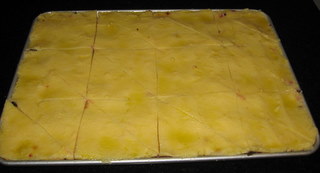 Polenta, after being chilled and cut (before baking.) They are not kidding when they say that this recipe feeds a crowd. This dish would be GREAT for a buffet or potluck or for a light first course (instead of pasta) before the main/meat course.