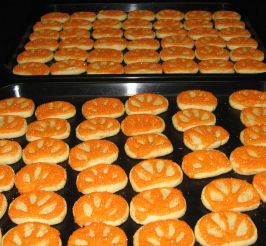 My favorite desserts are ones that have fruit in them, especially citrus. I will bypass ANYTHING made of chocolate for a good, homemade lemon square or lemon meringue pie. I know that makes me a bit of an oddity amongst most chocolate-crazed females, but I am definitely partial to citrus. I will post my ALL TIME FAVORITE dessert sometime soon (Saucy individual Lemon Puddings – with a crunchy "brulee" topping). My best friend (I love you, Eileen!) made those for me for my birthday one year and I've never been happier! So, as unique and citrusy as these cookies are, they are a really nice change from all of the gingerbread and sugar cookies that are around at this time of year, or are a great cookie to round out the assortment on a cookie tray or in a cookie gift box. This recipe was torn out of a magazine that I found so many years ago that I don't even remember which one it was. The copy of the page that I have is so torn up that I can't even read the name anymore, so I will apologize now to whichever publication I am about to blatantly plagiarize. This recipe is SO good and the finished cookies are so pretty – these are a sure-fire winner. the powdered sugar in the dough gives them a nice, crispy texture, almost like a "sandie" cookie. I only make these at Christmas, so every year I have to go and hunt to find the recipe. I am thrilled that I will now (thanks to this blog) be able to effortlessly find the recipe every year from now on.
Orange Slice Cookies
Makes about 80.
Prep. time: about 20 minutes
Freezing time: at least 30 minutes
Baking time: about 13 minutes
Dough:
2 sticks (1 cup) butter, softened
1 1/2 cups powdered sugar
1 Tbsp. freshly grated orange peel
(I always end up using clementine tangerines, because that's what we have around at this time of year)
2 tsp. vanilla extract
1 tsp. baking powder
1 large egg
2 1/2 cups all-purpose flour
Icing:
2 1/2 cups powdered sugar
1 Tbsp. freshly grated orange (or clementine) peel
(For the icing, I grate the orange peel and then chop it finely, so that it doesn't get clogged in the tip of my pastry bag. This is not necessary for the peel that goes in the cookie dough.)
3 Tbsp. fresh orange (or clementine) juice
1 cup orange-colored sugar
(check a craft store or cake decorating store if your supermarket doesn't have this)
For the dough:
1. With mixer on medium speed, beat butter, sugar, orange peel, vanilla and baking powder until fluffly. Beat in egg. Reduce speed to low; gradually add flour, beating just until blended.
2. Divide dough in half.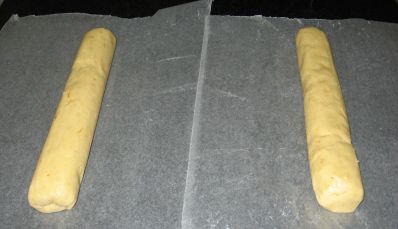 Shape each half into a 10-inch log. Press down on each log to flatten 1 side completely. Wrap and freeze at least 30 minutes, until firm enough to slice.
3. Heat oven to 325 degrees.
4. Cut 1 log at a time into forty 1/4 inch thick slices; place 1 inch apart on ungreased baking sheet (I usually line the sheets with parchment paper).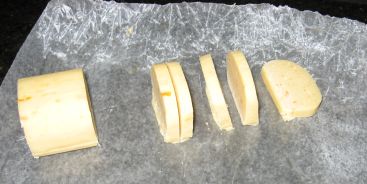 5. Bake for 11 to 13 minutes, until very lightly browned. (I find that these usually take the whole 13 minutes to be lightly browned on the bottoms, and sometimes more.) Remove to wire rack to cool completely. Repeat with remaining dough.
For the icing:
6. In medium bowl, whisk ingredients, until thick and smooth. Place in quart sized ziptop bag (or you may use a pastry bag with a small, round tip, like an Ateco #5). Pour colored sugar into a bowl. Snip tip off 1 corner of ziptop bag; pipe icing on cookies to resemble orange slices.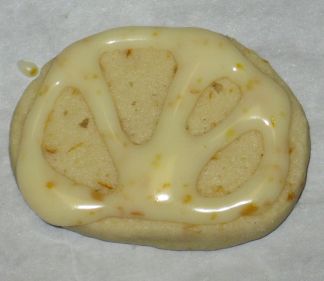 Gently press cookies, icing side down, in colored sugar. Shake off excess.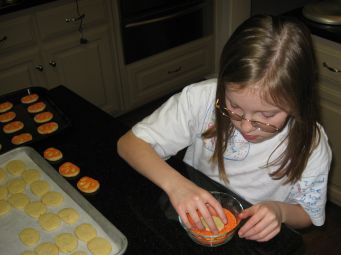 Update:  I found a link to the recipe online:
http://www.grouprecipes.com/63830/fancy-orange-slice-cookies.html/print