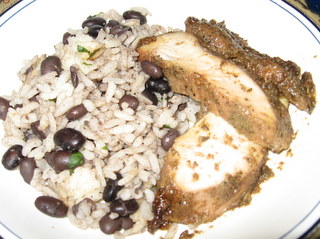 Jamaican Jerk Chicken, from Food & Wine magazine
click here for recipe
I recently bought Food & Wine's new "Quick from Scratch Chicken" magazine/cookbook (there are lots of versions of this cookbook available from different years, some are hardback and some are magazine-style, but this is BRAND NEW and can be found at a magazine stand – it has an olive green cover with chicken and corn-on-the-cob on the front….I can't find an online photo) and have been making all sorts of yummy things from it (Chicken with Avgolemono, Pad Thai and I'm planning to make Fusilli with Chicken Sausage and Rustic Garlic Chicken soon).
Well, last night was my brother and sister-in-law's anniversary and since, due to 2.5 week old Baby Jack Henry, they're still not back into full-fledged "going out" mode, I offered to make them a nice dinner over here (with the stipulation that they MUST bring the baby, of course!) It wasn't really 100% intentional (Boy had already seen the recipe in the book and had requested that I make it, so it was already in my "make soon" folder,) but I decided to make this, because Little Brother and his wife went on a cruise to Jamaica (and other destinations) for their honeymoon, so I thought this was fitting for their anniversary.
Boy, was that ever a great idea. This stuff was lip-tinglingly DELICIOUS. It was saucy and moist and flavorful without being butt-kicking spicy. I didn't do the leg quarters, but instead did some whole, boneless, skinless breasts and some boneless, skinless thighs. I wasn't sure what the baking time should be, so I just used a thermometer and pulled them out when the temperature registered 175 degrees. Man, oh, man… I sliced the breasts up so that we could all taste a little bit of everything. The thighs absorbed more of the sauce and were a little spicier than the breasts. The allspice flavor was very strong, but not overpowering. If it's not a spice that you really love, you might want to dial that down just a tiny bit. Boy, this was easy, too. Just blend it all up and then pour it over the chicken and bake. Simple and definitely do-ahead. Perfect if you're having adventuresome dinner guests. I marinated for 24 hours for maximum flavor and I doubled the sauce, because I was cooking extra chicken pieces. If you don't want it to be extra saucy and spicy, then I would pour off any excess marinade before baking, or simply remove the chicken pieces to another pan, and then I think the sauce would be more like a glaze, as is in the Food & Wine photo.
For the Congri/Gallo Pinto, I basically followed this recipe, but cooked the beans myself, and added a little epazote and, if you ask Little Brother (although he was polite about it), a bit too much cilantro (to me, there is no such thing as too much cilantro…)
All in all, a delicious and fairly simple dinner. Will definitely be a repeat, although I'll need to tone down the cayenne for the little people that live with me…
For another kid-friendly Jerk Chicken variation, try this.