It seems that I've been having some trouble with recipes lately. I hadn't thought of it that way until I actually started typing up the last few things that I've made and I realized that I've done a lot of "Plan B" cooking lately (as in, "Oh, that didn't work so well…let's go with Plan B.") These cookies are not an exception. When I first saw them on the amazingly beautiful website Cannelle et Vanille (that's Cinnamon and Vanilla for you francophobes,) I knew that I had to try them. Citrus desserts (orange, lemon, lime…I'm not picky) are my absolute favorite. I can pass up any kind of chocolate VERY easily, but offer me Key Lime pie and I'll NEVER say no.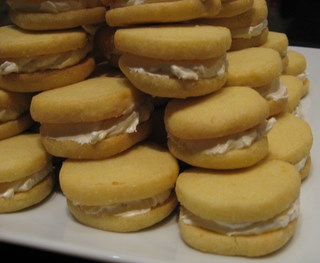 Well, it didn't seem that this cookie recipe would make very many cookies, so I tried to double it, but when I did and tried to load the (VERY STIFF) dough into a pastry bag, it was too hard to squeeze out into the spritz shapes. It's also possible that my metric-to-standard conversion attempts were incorrect and I added too much flour, but, what did I do? You guessed it. Plan B. I rolled the dough into logs about 2 inches in diameter and then wrapped them in wax paper and refrigerated them until they were firm enough to slice, and then I baked them as little "coins" instead of spritzes. They were easy and they tasted delicious. The only problem was that the cookies were pretty firm (kind of a shortbread texture?), so the filling had a tendency to squirt out the sides when you eat the cookies. I will definitely try to make these again, but will need to play around with them a little.
The very best thing about this recipe is that it gave me an excuse to buy some lemon oil. This substance is the best thing on the planet. Now that I have some in the house (refrigerate after opening,) I will be finding all kinds of new reasons to use it.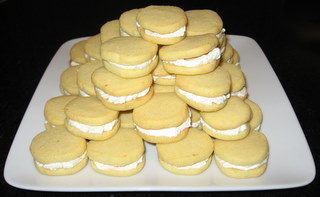 Conversions, for anyone that might be interested in trying this recipe, as-is (I'll post an updated version if I figure out how to make these work a little better):
For cookies:
110 grams of butter = 1 stick
90 grams of sugar = 1/2 cup minus 1 Tbsp
180 grams of flour = 1 1/2 cup minus 1 Tbsp
2 grams of salt = 1/2 tsp'
For buttercream:
75 grams egg whites = about 2 large egg whites
150 grams sugar = scant (not quite full) 3/4 cup