Chicken Pad Thai from Food & Wine magazine
Click here for recipe.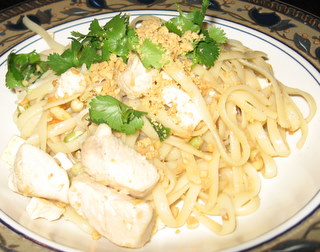 So sorry for the washed-out photo. Again.
I made this for dinner tonight (with some edamame) and it was a HUGE hit with Hubby (he didn't even add any sriracha; he said it was perfect "as is".) and me. Boy liked it, but it was a tiny bit too spicy for him (he was also returning from a school trip, pretty much too exhausted to eat, so his meter was a little "off.") Girl isn't home from her trip yet, so she didn't eat this with us. It would definitely have been too spicy for her. The spiciness could very easily be dialed down, though, to accommodate the eaters in your crowd.
I also made this for my little brother and his wife, who welcomed a lovely new baby boy into the world almost two weeks ago (my adorable and brilliant nephew, Jack Henry).
Seriously. Check out the cuteness; it's downright blinding!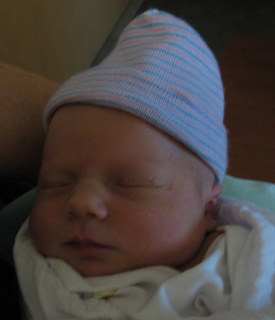 My sis-in-law called to thank me and said she loved this, too, so this will definitely be a "repeat" item.
Oh, and the sprouts? Fear not the salmonella outbreak, worrywarts. I sprouted them myself. I love this thing and am going to try shiso sprouts next.