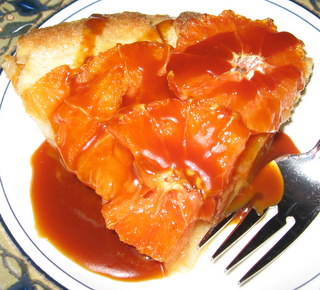 I had been looking forward to trying this for weeks. I usually can read over a recipe and quickly imagine what it will taste like and even whether or not we are likely to enjoy it. From the moment I saw this one, I thought it sounded fantastic. We LOVE Cara Cara oranges and, of course, we love caramel and figured that this dessert would be the perfect pairing of those two things. I had prepared it ahead of time and had it frozen, according to the recipe directions, waiting for the perfect night to bake it.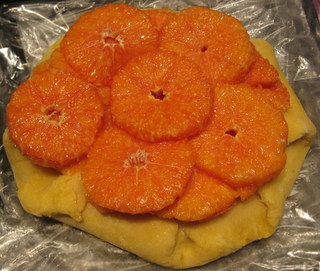 Frozen tart, before baking.
Well, I guess my recipe instincts were totally off, because this was just AWFUL. Terrible. Inedible, really. I did make some adaptations: I used Cara Cara instead of blood oranges and I realized, after assembly, that I probably didn't slice the oranges as thinly as I was supposed to, because they didn't get all shrively-dried looking like the ones in the magazine photo.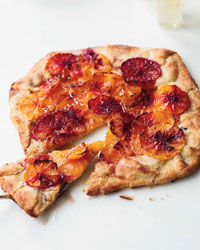 Honestly, the tart might not have been too bad on its own (or maybe with some vanilla ice cream), but I pretty liberally drizzled each serving with the salted caramel sauce, rendering it too salty for anyone (except maybe deer in search of a salt lick) to consume. The tart, though, for all the work that it required, really just wasn't stellar. The best thing about this recipe was the crust/dough, which was flaky and sugar-crusted. The caramel would be good, too, without the salt (or with the quantity vastly reduced.) I might try to make this tart again with berries, because the dough really was delicious, but the recipe, as is? No, just NO.