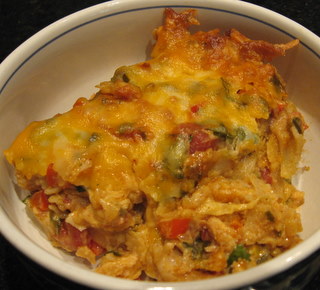 If you're from Texas, this is a recipe that you remember eating all your life. It was the sort of thing that you'd eat when you went to visit your grandmother or went to a church potluck. Historically, it was made with some type of cream soup, but there are as many variations of this recipe as there are branches of the Junior League in Texas, but you must always include chicken, tortillas and a can of Ro-Tel tomatoes. I decided to try an updated "fancy pants" version of the recipe (Hubby loves anything cheesy and vaguely spicy, so I was sure it would be a hit, at least with him.) The "fancy" version definitely has more flavor than the original, but it's still pre-cooked chicken, with soggy tortillas and lots of cheese, so it's remarkably similar to the original. A bit spicier (too spicy for Girl, in fact.) Both the original and the "fancy pants" recipes can be found here. This casserole isn't "gourmet" at ALL and certainly isn't anything to look at, but if that's what you're looking for, you're missing the point.
I did change the recipe around just a tiny bit. I roasted a whole chicken (*directions below) and then cut the meat up from that, instead of frying the chicken pieces in olive oil. Once the chicken was done, I cut the meat up (all but the legs and a little bit of the breast, which I'll save for another use) and sprinkled it with a little lime juice and ancho chile powder. I skipped the step of pre-heating the tortillas, because I was feeling a little lazy and I had hungry people whining at me.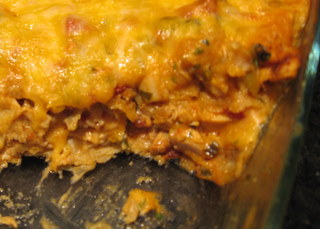 *Easiest Roast Chicken EVER
Preheat oven to 400 degrees. Remove packet (gizzards and neck and other nasty stuff) from inside the chicken and discard it. Rinse chicken thoroughly, inside and out, with cold water and pat dry with paper towels. Take a whole lemon and prick it thoroughly, all over, with a fork. Insert it into the chicken's…ummm…"cavity." Gently peel the skin up from the breast, starting at the neck end (don't remove it, just make a "pocket".) Remove any extra fat that might be inside the chicken's cavity. Spread it out in the "pocket" that you've created between the skin and the breast. Generously season the chicken, inside and out (and in the "pocket") with kosher salt and pepper. Feel free to add herbs, too, if you'd like (I usually don't, depending upon what I'm going to do with the chicken and whether or not I'm planning to use the carcass for stock later.) Rub the chicken's skin all over with a lightly coating of olive oil. Bake the chicken for about one hour or until a thermometer inserted into the meaty part of the thigh registers 170 degrees.