Well, it's only the first day and I'm already off the schedule…
I decided to flip Monday and Tuesday, so we had this lentil soup for dinner tonight. It was absolutely wonderful; all four of us loved it. I served it with Baby Bam croutons (cut your favorite bread into appropriately-sized chunks, drizzle with melted butter and/or olive oil to lightly coat, sprinkle with Baby Bam, bake at 250 degrees – 20 to 30 minutes – until crunchy.)
Note: If you live in Austin: Escarole is difficult to find at most stores. My in-laws' farm grows it (seasonally), or it is also available at Central Market. I haven't seen it elsewhere.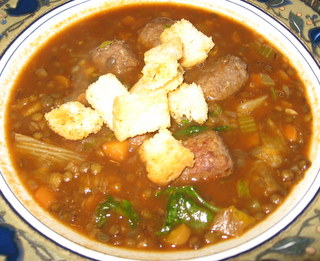 Lentil Soup with Italian Sausage and Escarole
Some things came up early in the day today and I knew that I would be getting home (and hence, starting dinner) later than I planned, so I prepped the veggies and sliced the sausage ahead of time and put them in containers in the fridge. I also pulled all of the other non-perishable ingredients (stock, vinegar, olive oil, bay leaf, etc.) out and set them by the stove, so that when I got home, I would be able to get right to work. So, from the time that I started to the time we hit the table, this dish took about 35 minutes. Perfect!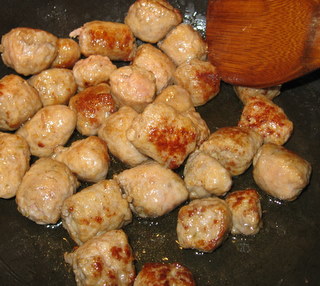 Browning the Italian sausage meatballs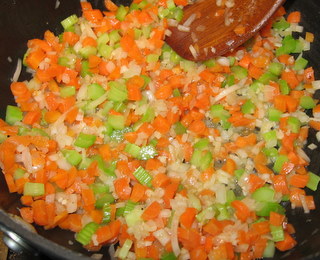 Sauteeing the vegetables (my kitchen smelled AMAZING when I threw this in the pan)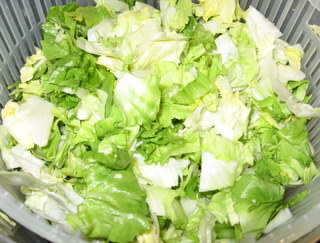 Chopped escarole, waiting for its turn in the soup
I HIGHLY recommend this recipe. Girl ended up coming home sick today, and will likely still be sick tomorrow, so I plan to use the leftover 1/2 head of escarole (the head that I bought was HUGE) to make her some escarole and meatball soup. We'll plan to have the salmon for dinner tomorrow and fish makes her miserable. Normally, I would just tell her to "get over it", but since she's not feeling well, I'll probably give her a pass…stay tuned for that recipe.
In case you haven't used lentils before, this is what they look like before they're cooked; they're VERY small.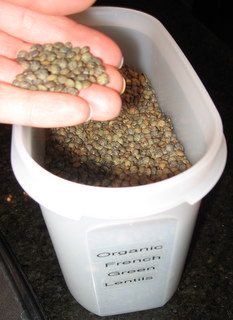 Lentils are VERY easy to cook, are VERY inexpensive, have a mild flavor that nicely absorbs the taste of other ingedients in the dish. Lentils are LOADED with iron, fiber and folic acid, so they are a WONDERFUL food for pregnant women. If you haven't tried them before, give them a go.
Here are two other great recipes to get you started:
Lentils with Bulgur and Onions from Gourmet magazine

Salmon with Lentils and Mustard-Herb Butter, also from Gourmet magazine