Yum, yum, yum! What a GREAT meal!
I had a "milestone" birthday this week (one with a zero on the end of it) and this was the meal that we prepared to celebrate (I would rather be in my kitchen, preparing food, than anywhere else in the world – that IS a birthday present for me.):
Mexican Martinis
(recipe here)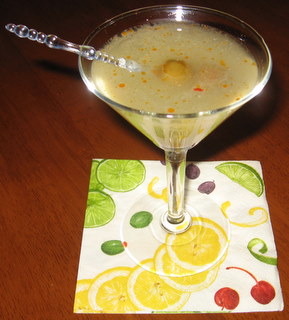 These were DELICIOUS. I know, I know…it's not technically a true martini, but yummy. Imagine if a martini and a margarita had a baby. I used my favorite Catalon olives, instead of jalapeno-stuffed.
Amazing Turkey Enchiladas
(recipe here)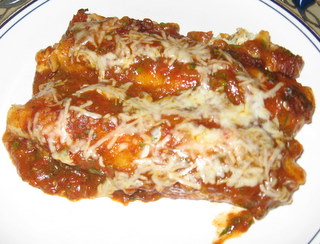 I've made this before, using leftover Thanksgiving turkey, but I used some leftover rotisserie chicken that I had on hand this time and they were FABULOUS. A bit spicy for Girl, but Hubby was in Heaven. Boy loved them so much that he had a second helping, even though he had been to a birthday party (not mine – Boy's friend, S, shares my birthday) earlier and had already eaten pizza.

Cinnamon Cake with Chile-Chocolate Buttercream
(recipe here)
I made these into cupcakes (they took about 22 minutes to bake in my oven.) These were VERY good and rich (they smelled like a churro or a cinnamon cake doughnut as they were baking), but the buttercream doesn't have a really strong chocolate flavor. If I make these again, I'll omit the white chocolate and double up on the bittersweet chocolate, instead. I didn't use the cake flour (just used regular all-purpse), because I didn't have any in the house and didn't want to make a special trip, but they were a little denser that I would have liked, so I'll use it, as called for, when I make them again. These were actually a "trial run" for a dessert for my dad's upcoming HUGE birthday party, so I will be certain to make them again soon. Every year, my folks have around 60 people and do ALL of the cooking themselves (well, I've made the dessert for them twice, but they do everything else.)