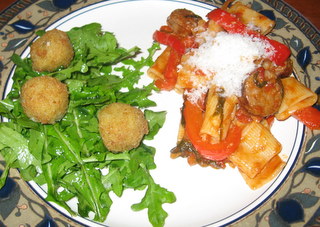 I cut this menu out of Cosmopolitan magazine a long time ago (April 2007, to be exact) and just now got around to actually making it. I don't know why I waited so long! Yum, yum!
The magazine article was in conjunction with a round of publicity surrounded the release of Giada's new (at that time) book Everyday Pasta. Because the recipes are included in the book that she was trying to, ummmm, sell, I haven't been able to find an "official" link to the recipes online, together. It does appear that Giada was very busy on this book publicity tour, however, because the recipes do show up, individually, in lots of places:
Here's a link to the pasta recipe (scroll down):
Rigatoni with Sausage, Peppers and Onions
and here's the salad:
Arugula Salad with Fried Gorgonzola
I only made a few, tiny moderations to the pasta. I only used 1/2 of one onion, because Boy isn't a fan of huge amounts of onions and will remove them from his portion, so I didn't want them to go to waste (there were still plenty for the rest of us – I just didn't serve him any). If I were making this for anyone else, especially for other adults, I would add the full amount of onions in, because they get golden and sweet, almost caramelized, and absolutely delicious, as they are cooking. Mmmm…
I also used regular (pork) Italian sausage, rather than the suggested (lighter) turkey, just because that's what I had on hand. I wouldn't have a strong objection to turkey, but the dish was definitely not too heavy, even with the heartier sausage, so it's really just a matter of personal preference.
As for the salad, I made it exactly as specified, but I would recommend making the cheese balls as small as possible. It's really easy for the balls of gorgonzola to get too strongly flavored and overwhelming (although I love gorgonzola and they were delicious, the bites were just REALLY big and a bit much). Another problem is that the cheese balls started to melt and fall apart before the bread crumbs on the outside got as crisp as I would have liked. If I make the salad again, I may try to form the gorgonzola into very small patties (discs) and pan-fry them, rather than deep-fry them. I might freeze them beforehand (rather than refrigerate), just to be sure that they don't fall apart too soon.
The other thing about the salad is that the dressing was VERY sour. For arugula (and blue cheese, for that matter), a super-sweet dressing wouldn't work, but this was just TOO sour. Next time, I'll had a tiny bit of honey to the dressing or substitute a little bit of balsamic vinegar for some of the lemon juice.
Overall, though, an easy and delicious meal. The pasta, especially, has earned a permanent rotation spot. Give it a try!