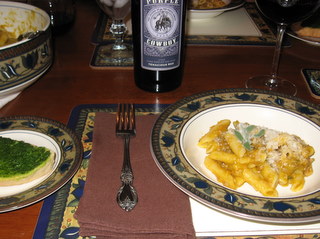 I watch a lot of Food Network. Really, a lot. So, consequently, I've seen Rachael Ray's show pretty often (and moderately enjoy it), but I'd never (until now) tried one of her recipes. Now, Rachael will be the first to tell you that she's not a chef, but her recipes (at least when she prepares them on TV) look OK: fresh produce, fresh herbs, etc. And, of course, the "30 minute" idea appeals to me, at least for busy weeknights. She may not be professionally trained (and, my personal pet peeve, seems to have NO awareness of using what's in season), but I also think that her recipes, for the average American home cook, are at least a step up from frozen meals or takeout and I don't think that she deserves all of the criticism that she receives. So, anyway…this pumpkin penne recipe and this spinach garlic bread recipe looked like it had good potential, so we gave it a try recently. The pasta was…meh?…okay, but the subtle flavors of the sage and shallots were completely lost. All you could taste was pumpkin. Not a big hit with any of us. It wasn't offensive or awful, just…not great. This is not something that I'm inspired to make again. If I'm in that much of a hurry and need a meal in 30 minutes, I'd rather open a jar of good quality tomato sauce or even make a quickie tomato sauce with canned tomato sauce.
The garlic bread, on the other hand, was delicious. It looked pretty weird, but the kids LOVED it, so if you have picky eaters that are hesitant to try spinach on its own, they might be willing to try this. The spinach flavor is completely buried in the cheese and garlic, but, again, if you have picky eater kids, that might be a good thing. We prepared the bread as slices, rather than chunks, so there was probably a good 1/4 cup of spinach in each slice.
So, for us, the jury's still out on Rachael Ray. I'm willing to give her recipes one more shot, but this one didn't impress us.