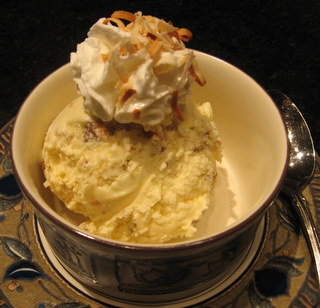 My grandparents have recently moved to town and are living nearby. We go to visit them and have dinner occasionally at their new home. They are living in a retirement community that serves lots of Blue Bell ice cream. The other day, my grandfather mentioned that he hasn't been able to find his favorite flavor, Nutty Coconut. Unfortunately, a quick trip to Blue Bell's website told me that it had been discontinued, so I decided to try to make some on my own, for my Pappaw.
This turned out pretty darned well, if I say so myself. Disclaimer: I have never tasted the original Blue Bell Nutty Coconut, so I don't know how "authentic" my version is.
Coconut Pecan Ice Cream
(inspired by Blue Bell "Nutty Coconut")
1 cup milk
1/2 cup sugar
2 large eggs
2 cups heavy whipping cream
1/2 tsp good vanilla extract
1 1/2 tsp coconut extract
1 7-ounce bag sweetened, flaked coconut
3/4 cup coarsely chopped (good quality – Texan, if possible) pecans
Preheat oven (or toaster oven) to 350 degrees.
Spread the coconut in a very thin layer over a cookie sheet and toast in the oven until lightly golden brown. Watch it carefully – it can burn very quickly. Set coconut aside to cool.
Toast pecans in the oven, using the same procedure as with coconut (above). Set pecans aside to cool. Turn oven off.
Warm the milk over very low heat in a medium-sized saucepan until warmed through, but not boiling. Whisk the sugar and eggs together in a separate medium-sized bowl. Pour a small amount of the warmed milk into the egg/sugar mixture, whisking immediately until thoroughly combined. Add the remaining milk, a little bit at a time, whisking quickly after each addition, until all of the milk has been blended into the eggs and sugar.
Pour the egg/sugar/milk mixture back into the pan and heat it very slowly until thickened, stirring slowly and constantly (this can take a while). Do NOT let this come to a boil. When custard looks like slightly liquid-ish pudding, it's ready. Remove from heat and let the custard cool to room temperature. Stir in the whipping cream and extracts.
Pour custard into a Tupperware-type container and refrigerate until thoroughly chilled. Freeze in your ice cream maker, according to manufacturers' directions. When ice cream is almost done (almost completely frozen, but still slightly soft, like soft-serve ice cream), stir in pecans and 1 cup of the toasted coconut. Pour ice cream into a freezer container and freeze until completely set up. Serve topped with remaining toasted coconut, if desired.