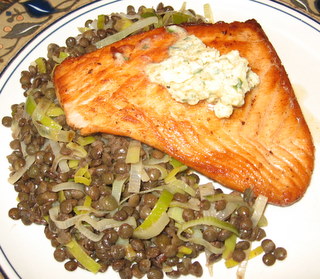 Salmon with Lentils and Mustard-Herb Butter
I don't normally cook a lot of seafood, because Girl hates it and threatens to run away from home, but Boy loves it, so every once in a while I brave the wrath and serve it, anyway. It's kinda fun to see her wrinkle her nose and gag at the dinner table.
Boy was on a field trip in Dallas all day today (seeing the King Tut exhibit), so I wanted to make a special dinner for him upon his return and this one looked like it fit the bill. I wasn't sure how the lentils would go over, since I've only made them once before.
But….WOW, was this yummy!!! It was much easier to actually execute than the recipe made it sound. Once I actually started cooking it, it was VERY simple. Sauteeing the fish in butter gave it a lovely, savory browned crust and wonderful flavor. I was afraid that the leek flavor would be too strong (it has a LOT of leeks in it), but the kids both loved it. A couple of other epicurious readers recommended sauteeing the fish in olive oil, to cut the butter content (why would you want to do such a thing???), but another reviewer recommended added a little pre-cooked, crumbled bacon to the lentils, to add even more sumptuous flavor. I, myself, never pass up an opportunity to monter au beurre or throw in some bacon, so I may adapt a bit when I make this again.
I really can't recommend this dish highly enough. If your kids are a little adventuresome, they'll love this, but it's also "fancy" enough to impress at a dinner party. Would have been sublime with a better wine choice, but we drank what we had on hand, which was OK. If you like the idea of salmon and lentils, but want some other options, these two recipes look great, too:
Herb Crusted Salmon on Puy Lentils with Red Wine Sauce