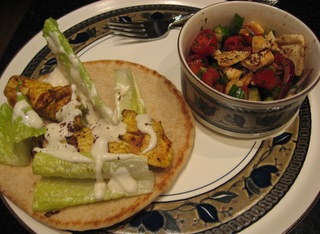 Chicken Shawarma with Fattoush Salad

Yummy and VERY easy. I didn't put the tomatoes on our pitas, because we were already having a lot of tomatoes in the salad, in fact, Girl dumped her bowl of salad ONTO her pita and ate it that way.
For the fattoush, I adapted a recipe for "chopped vegetable salad" that was in the same issue of Cooking Light, but changed it around so much that it really wasn't the same, so here's my version:
Fattoush
2 cups chopped cucumber
1 cup chopped red bell pepper
1 cup halved grape tomatoes
1/2 cup thinly sliced red onion
1/2 cup finely chopped fresh Italian parsley
(The original recipe also called for some chopped green bell pepper, but I didn't have any on hand. It would have been a nice addition, so I'll add some next time. Maybe some garlic, too?)
Gently fold all above ingredients to combine. In a small, separate bowl, whisk together:
2 Tbsp balsamic vinegar
1 Tbsp olive oil
1/2 tsp salt
1/4 tsp pepper
Pour over salad and toss gently to combine.
Toss in 2 cups coarsely crushed pita chips (recommended: Stacy's brand, from Costco) and 1/2 tsp to 1 tsp of ground sumac powder (If you can find it. Try Kalustyan's, if you're determined to find some.) and toss salad gently again to combine. Sprinkle a little more sumac on top. Serve immediately, before the pita chips get soggy. If you're not serving it right away, reserve the pita chips separately until ready to serve.