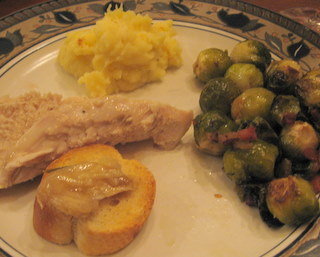 40-garlic clove chicken with roasted brussels sprouts and mashed potatoes.
This recipe is from Fine Cooking magazine, which doesn't allow free access to their online recipe forum, but I did find the recipe on another website here (please ignore the grammar and the hash-smoking references).
It was absolutely delicious and will DEFINITELY be made again during the winter. It's the perfect, savory, comfort food for cooler weather. Mmmm…. The kids weren't wild about the plain garlic on the baguette (although I thought they would be), so I will probably take the garlic and improvise a simple garlic toast next time (mix the roasted garlic cloves with butter, parmesan and herbs and spread on bread, then lightly toast it).
For dessert, I made Pumpkin Creme Brulees (which were DELICIOUS) with little maple shortbread "leaf" cookies, for garnish, and Ice Cream Sundaes with Pomegranate Caramel Sauce, topped with whipped cream and fresh pomegranate arils (for my little brother, who doesn't like pumpkin)