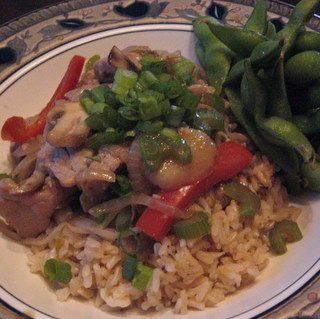 I made this recipe for Chop Suey tonight (from Emeril Lagasse). It was recommended to me by a friend that has kids about the same age as Boy and Girl.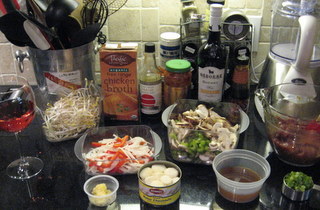 Mise en place, crucial for stir-frying. Mulderbosch Cabernet Sauvignon Rose optional
Overall, the recipe turned out pretty well and everyone liked it quite a bit (even though Girl turned her nose up at it before she started eating). A did have to make a few modifications:
– My grocery store didn't have shiitake mushrooms alone (this time, although I've found them there in the past), so I bought a "blend" of shiitake, portabella, and a few others. I pulled the portabellas out for a future use (they were big, thick, easily-identifiable slices) and used the rest, because the whole package was bigger than the amount called for in the recipe. I will probably make some kind of mushroom omelet tomorrow.
-I used brown rice to serve with it, instead of white, because, well…I just do that sort of thing.
-The recipe says "Heat wok…add oil…", but doesn't mention oil in the recipe list and doesn't specify what kind of oil or how much, so I used peanut oil, about 2 Tbsp.
– I don't have a wok, so I used the biggest, widest skillet that I have. It's pretty darn big and heavy, so it retains and conducts heat pretty well, but not well enough. I'll be asking Santa for a wok. This modification made the biggest (negative) impact on the finished dish.
So, the deal is…the dish was good, but the pork wasn't browned enough (because I didn't have a wok) and the vegetables got a little mushy and watery (because I didn't have a wok) and the sauce was a little wan looking (because I didn't have a wok). The flavors were still good, but would have been better and the vegetables would have been more crisp….guess what…if I had used a wok. The good news: the pork was VERY tender, not overcooked or chewy at all.
I served this with some steamed edamame, which both kids love. Girl also loves red peppers and water chestnuts, so she liked this pretty well, even though it contained…(ewww!)….meat. Boy liked it pretty well, because it contained….(yum!)….meat. He tolerated the mushrooms and liberally used sriracha and ate his weight in edamame.