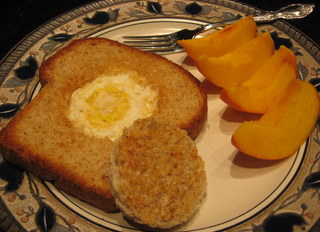 A tutorial on a classic, kid-friendly breakfast.
You'll need:
a griddle or large skillet
butter or margarine
(as much as I DETEST margarine, it's actually better for this,
because you don't have to worry about it over-browning, like you would with butter)
one and egg and one piece of bread for each person you're feeding
(we used wonderful wheat bread from Weikel's Shell station bakery in LaGrange)
a large cookie cutter (small enough to fit into your slice of bread)
large spatula
Use the cookie cutter to cut a shape out of each piece of bread. If you don't have a cookie cutter the right size, you can use a drinking glass. Save the cut-out shapes.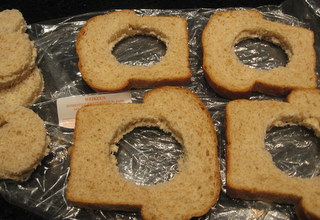 Generously butter the griddle. Heat it to medium-ish.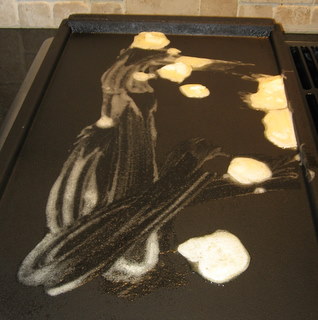 Place the bread slices and reserved cut-out shapes on the griddle (or in the skillet – use what ya got!).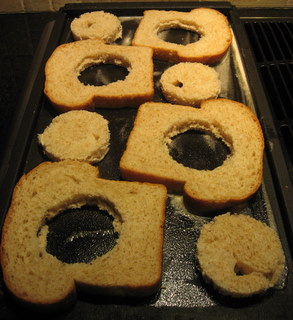 Turn 'em over the get the other side cookin'. Add more butter margarine, if you need to. Turn the cut-out shapes over, too. Keep a close eye on them, because they will cook quickly and may need to be removed from the griddle.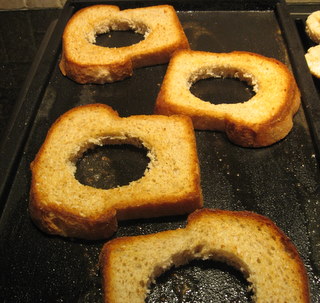 Gently crack an egg into each bread-hole "nest".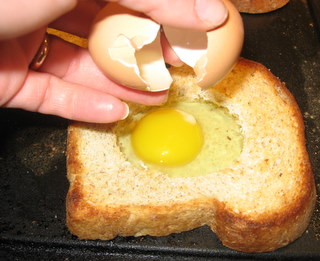 Dot each egg with a tiny bit of nasty, yellow, oily stuff margarine.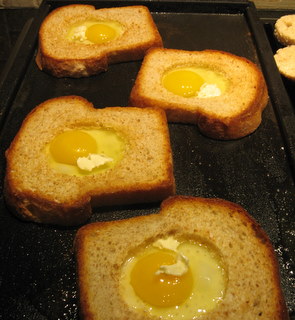 Sprinkle each egg with salt and, if desired, pepper.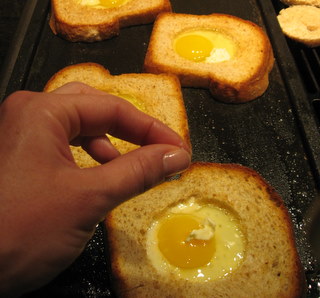 Keep watching the little cut-out shapes!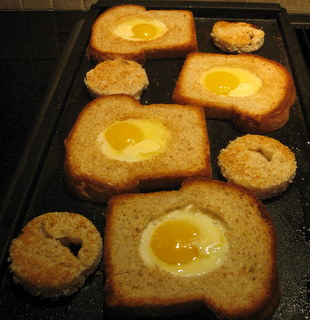 Lower the heat, if necessary, to keep the eggs from overcooking. If you like your eggs cooked into submission firm, like Boy and Girl do, turn the toast/eggs over. If you like your eggs still a bit runny, watch them carefully and remove 'em from the heat shortly after the whites of the eggs are opaque.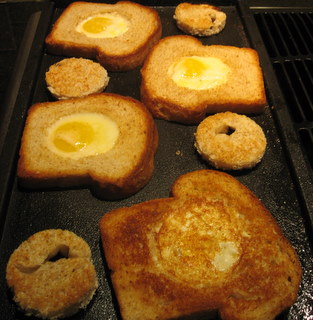 Serve 'em up with some fruit, topped with the little cut-out shapes, if the cook doesn't eat them first if desired.