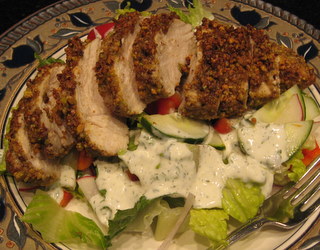 I have combined 2 different recipes together (South Beach Chicken Pistachio Salad and Pistachio-Crusted Chicken from Epicurious) to make a dish that, I think, takes the best from each. I made this for Hubby and I for lunch on a day when the kiddos were both elsewhere and we both liked it a lot.
Here's my version:
Pistachio-Crusted Chicken Salad
Serves 2 LARGE portions or 4 smaller ones
(perfect for 2 adults and 2 kids)
2 large boneless, skinless chicken breasts
2 Tbsp Dijon mustard
1/2 cup pistachio nuts, finely ground (in the food processor)
1 Tbsp fresh thyme leaves
salt and freshly ground pepper
about 3 Tbsp olive oil
generous amount of your choice of salad greens and ingredients
(we used romaine hearts, red onion, yellow bell pepper, radish, grape tomatoes, carrot and cucumber)
salad dressing of your choice
(we like Cilantro Ranch)
Preheat oven to 375 degrees.
Cut each chicken breast into 2 equal-sized portions. Pound gently with a mallet to flatten each of the four pieces to a uniform thickness. Sprinkle each piece of gently lightly with salt and pepper. Brush each piece with a light layer of mustard, turning to coat each side. Sprinkle (turning to get both sides) with the fresh thyme. Pour the ground pistachoes into a shallow plate. Dredge each mustard-coated chicken piece through the nuts, turning and patting to lightly coat. Set the chicken aside on a plate.
Heat the olive oil over medium-high heat in a wide, shallow skillet. Carefully add the chicken to the skillet and cook until the nuts are golden-toasted, turning to cook both sides. When nuts are cooked (but before they start to burn), remove the chicken pieces from the skillet and place them in a baking dish (or a broiler rack), being careful to not dislodge any of the nut coating. Bake the chicken for about 15 minutes, or until the juices run clear and a meat thermometer (inserted into the thickest portion) registers 160 degrees.
Set the chicken aside to cool slightly while you pile the salad greens onto the serving plates. You may either slice the chicken into medallions and place it on top of the salad, or you may leave the chicken breasts whole and serve them to the side of the salad – your choice. Top with dressing!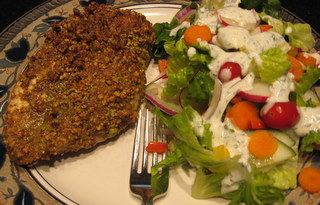 If you aren't doing "South Beach" and would like to serve this over rice or pasta (instead of salad), you could add some finely chopped onion or shallots (and maybe a tiny bit of minced ginger?) to the saute pan (after removing the chicken) and cook them until they're softened and then deglaze the pan with a little white wine and/or chicken stock to make a savory sauce to pour over the chicken (you could still serve a salad on the side).
When I made this dish in the photo shown below, I made it a little differently and used one whole breast for each portion. The breasts were too thick for the mustard-nut-thyme flavor to get all the way to the middle of the chicken and we've realized that one whole chicken breast is just too much for us to eat at one sitting.