My table, set for the dinner party that we had on Saturday. I was really proud of the way that it all turned out. The table looked beautiful; the food was great; the guests and conversation were wonderful.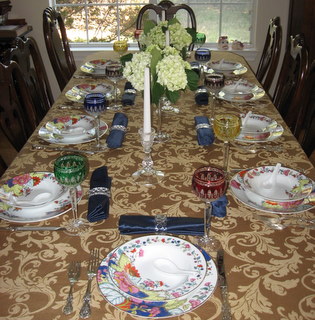 I was especially proud of the flower vases. They are candleholders that I bought a while back at Target. They are shaped like giant straight-sided wine glasses (similar to this) and are meant to hold a smallish pillar candle (3 inches high by 1.5 inches in diameter or so), but the bottom of one of the candleholders isn't level, so the candle won't sit straight and wax melts EVERYWHERE when the candles are lit. I was just about to recycle the candleholders or get rid of them (they weren't expensive enough to be worth taking back to Target) when I was hit with a brainstorm – they would make great vases! I bought some light green/yellow mini hydrangeas and cut the stems really short (the leaves were perfect, because they look really similar to the tobacco leaf design of my dishes). They turned out beautifully!
Dinner was also perfect. For appetizers, I made some edamame with lapsang souchong salt and some gyoza dumplings and my special spicy-sweet dipping sauce. I served that with Basil Lime martinis.
The first course was Tre Wilcox's Pan Seared Cod with Spicy Thai Lemongrass Broth, served with Tommasi Pinot Grigio.
The second course was these Chicken Lettuce Wraps (yummy and kid-friendly, which was good, because we had 10 adults and 5 kids over that night), served with a choice of either Mulderbosch Rosé (Cab. Sauv) or Monferrato Dolcetto (most people chose the red).
I made two versions of my French macaroons for dessert. I know that they don't fit with the Asian theme of the meal, but they were yummy. I did, at least, make the Chai-Chocolate ones (and Cara Cara orange), so at least those have some marginal claim to being somewhat Asian.
I can't believe that I forgot to take a single photo, especially since many of the guests live far away and we rarely get to see them, but I will definitely be making the cod again (I need to experiment a bit more with my searing technique until I get the fish exactly right, but the broth was SPOT ON). When I get the quantities perfected, I'll post my version of Tre's recipe. His recipe was made for a professional kitchen and I think the proportions got a little off when the quantity was cut down to size (A half pound of ginger? I don't think so.).