Steff's Homemade "Cran-crazy" Granola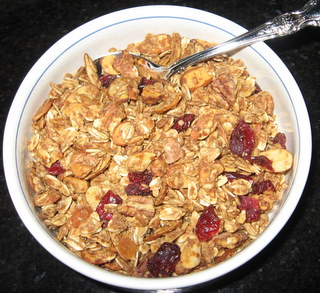 I came across this granola recipe on Canadian Steff's blog. (WARNING about Steff's blog: In addition to a few good recipes, it also has some adult themes. If you are easily offended, DO NOT poke around on the blog past the granola recipe.) Her recipe was adapted from this one on allrecipes.com.
I've adapted the recipe a little bit, too:
I took Steff's suggestion to up the flax seeds to 3/4 cup.
I used sliced almonds instead of chopped (I think they're prettier).
I used pecans instead of walnuts (personal preference).
I added 2 scoops of milled flaxseed, in addition to the whole flax seeds.
I used a Cinnamon Spice Blend, instead of just plain cinnamon. The recipe can be found here.
It's QUITE yummy. This granola can be eaten on its own as a cereal, or sprinkled over the top of other cereals (or ice cream, yogurt, etc.). I had never used safflower oil before, but I will definitely keep it on hand from now on. It's amazingly light and I think would adapt to lots of different uses.
My friend Kathleen's Almond-Coconut Granola
(originally from our mutual hairdresser, Monique)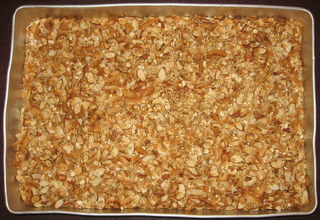 Equal parts of:
Sliced almonds
Coconut "chips" (large shreds of unsweetened coconut)
Old-fashioned oats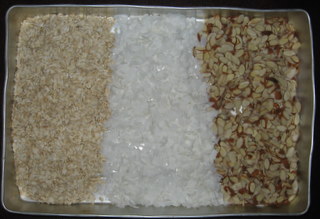 Granola ingredients, before being coated with maple syrup and baked.
Preheat oven to 350 degrees. Stir in enough maple syrup to just BARELY moisten the ingredients. Spread into a large, flat baking pan.
Bake for about 20 minutes, watching very carefully and turning and stirring about every 5 minutes, until the granola is evenly golden-toasted.
For the batch that I made yesterday, I used 3 cups each of almonds, oats and coconut, with about 3/4 cup maple syrup, plus I added 3 Tbsp wheat germ and 3 scoops of milled flax seed.
Because this granola is pretty sweet, is a better "garnish" granola than it is a "eat a whole bowlful" granola. I like to mix it with Cheerios (2 parts Cheerios to 1 part granola).