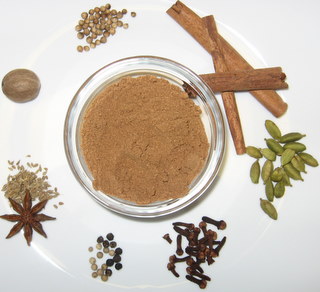 I've been threatening to make a batch of Chai macaroons (macaron), but haven't been able to. It's been rainy and wet here and I'm worried about the impact that all of the moisture would have on the meringues. So, I'm waiting for drier weather before I give it a try. I have also ordered some pistachio extract so that I can give a pistachio version a try (I thought that I would use ground pistacho instead of almond meal and then would use a bit of the pistachio extract in the buttercream), so the macaroon project (thankfully!) is on hold for the moment.
I did, however, want to give you all the recipe for my Chai Spice Seasoning. I've noticed quite a few searches for it are directing people to my site (since I have my fancy-dancy new Google Analytics set up) and I don't want to be a tease, so here it is:
Chai Spice Seasoning Blend
1 tsp. ground cardamom
1/2 tsp. ground cinnamon
1/4 tsp. ground cloves
1/4 tsp. ground ginger
1/8 tsp. ground allspice
1/8 tsp. ground mace or nutmeg
1/8 tsp. ground coriander seed
a small sprinkle of ground black or white pepper
optional: a little (1/8 tsp?) star anise or anise seed, if you're willing to go through the trouble to grind it
Mix all of the spices together and store in an airtight container. Add to tea, coffee, any baked goods (especially yummy with chocolate – try it in brownies!). Add a pinch to meringue or whipped cream or sprinkle it in your cereal or over your oatmeal. Try blending it into a sweetened vinaigrette for a great dressing over baby spinach, fruit and nuts. If it's too "spicy" or exotic for you, feel free to cut back on some of the other spices and bulk up the percentage of cinnamon until your taste buds (or your childrens') get used to it.