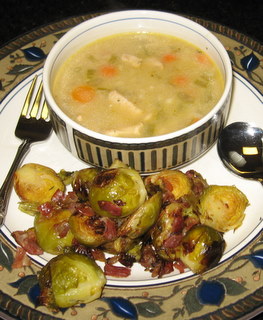 Chicken Vegetable Barley Soup
2 Tbsp. olive oil
1 cup sliced or chopped carrot
1 cup finely chopped celery
3/4 cup finely chopped white onion
2 pressed or chopped garlic cloves
1 large aseptic box (I use Pacific brand), about 4 cups, chicken broth
2 large chicken breasts, cut into bite-sized pieces
about 3/4 cup barley
about 1 Tbsp. Baby Bam seasoning
fresh chopped parsley, optional
NB: The barley that I used was NOT the quick-cooking kind, but if that's the you have on hand or all that you can find, it will still work, just put it into the soup later, following the cooking directions on the package.
Sprinkle the Baby Bam over the chicken and stir to coat. Heat half the olive oil in a very large saucepan or small stockpot. Add the chicken to the pan and cook, stirring and turning constantly, until the chicken pieces are browned on all sides (about 3 minutes?). Remove the chicken from the pan and set aside. Add the other half of olive oil to the pan and heat it slightly. Add the veggies to the pan (garlic, onion, celery, carrot) and saute them until soft (about 3 minutes?). Add the the barley and cook, stirring constantly, for 1 to 2 minutes. Do not allow the barley to change color – you just want it to be warmed through and very lightly coated with oil. Add the chicken back to the pan and pour in the chicken stock. Cook the soup over medium-low heat (keep it just barely simmering) until the chicken is cooked through, the veggies are softened and the barley is tender to the bite (30 – 45 minutes – but less if you use quick-cooking barley).
If you have any of this soup left over, it still tastes great the next day, but the barley will absorb more of the stock as it sits, so it will become thicker and stew-like.
I served this with roasted brussels sprouts.
Boy and Girl both liked this (Hubby was out of town on business that night) and it was great (warm and filling) for the super cold weather we've had the last couple of days. I had to take a short break from macaroons, because we've had some rain (I think that might adversely impact the meringue), but I will try two more batches soon. Boy has requested pistachio and Girl has requested chai. After that, I'm going to stop with the macaroons, I promise.