This is a bit belated, but we've finally finished putting away all of the decorations, so it's all fairly recent, in my mind…..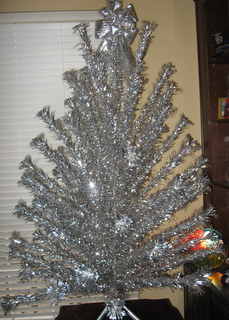 We really enjoy the festivities, foods and fellowship of the holidays around here. We really get into it and decorate everything that doesn't move. We put up lots of themed trees: a "snowman" tree, a "patriotic" tree, a "Texas" tree, plus our regular "family" tree and a tree for each of the kids in their bedrooms. My favorite, however, is our "tinsel" tree in Hubby's office. He's a programmer/techie geek by profession, so I love the modern/tech look of it (albeit a 1964 version of "modern"). I even have the revolving light to shine on it to make it change colors (regular tree lights on these kind of tree would be an electrocution hazard).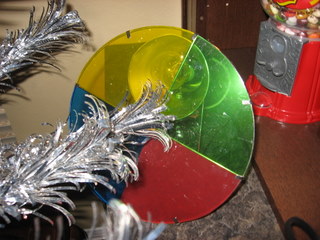 My friend, Mary, introduced me to these trees. Their time came and went before I was born, but, apparently, they were big in the early to mid 60s. They are hard to come by these days; I got mine on ebay about 5 years ago, but there may be some companies making reproductions. Mary got hers when her neighbors were clearing out their house: they didn't want it and had left it on the curb, where Mary very cleverly snapped it up. What I love the best about ours is that the box still has the original shipping label from Billings Hardware in Billings, Montana, to the Elray Motel in Sidney, Montana (mailed on November 30, 1964). A couple of years ago, there was a sci-fi miniseries called "The Lost Room", starring Peter Krause (from Six Feet Under – a brilliant show). The miniseries centered around the lost contents ("objects") of an 60s-era abandoned motel room where a man had disappeared. Each of the "objects" (glass eye, bus ticket, comb, etc.) that were originally in the room has a special power (to teleport or cure diseases, for example). It's a roundabout way for me to get to my point, but every time that we put our tinsel tree up or take it down and I see that "Elray Motel" shipping label, I think that this tree could so be an "object" and wonder what special power it should have.