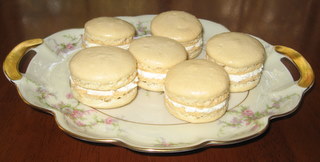 French Almond Macaroons, worthy of being served on my great-aunt Lad's antique Limoges china.
I am feeling like the Goddess of Pastry over here this week. When we were in Europe last summer, we fell in love with Parisian macaroons (macarons). When we got home, I looked all around for a recipe to duplicate them, but got scared away by all of the reviews that I read that said things like:
"Okay, I know that at one point in my life, I've actually succeeded in making chocolate versions of these little cookies, but recent attempts have resulted in something resembling what a Macaroon should be. They are either cracked, over dried, or so gooey that they fall apart. What's worse was that they lack the shiney eggshell like sheen."
or
"I used the recipe on a la cuisine, referenced in the thread. I think there were too many eggs. Or maybe it was a mixing problem? No smooth, shiny top, no feet. Just a sad, sad sight."
or
"Okay, I know when to ask for help. ….I need help. Will any one out there send me any tips or a fool proof recipe for french almond macaroons (vanilla or chocolate). The last 5 days I have been trying to conquer Martha Stewart's recipe, and have failed miserably. I have baked DOZENS of these ****** cookies to no success. The cookies are cracking on top. I am not able to achieve a beautiful smooth "cookie top"."
or
"Tender, picture-perfect macarons are not easy to make. Les Macarons are all about technique, rather than about just following a recipe….I phoned my friend Rob who worked with the chef from Fauchon, and he warned that the batter for perfect macarons needs to be folded just-so.
One extra fold, and it's all over. Not enough, and you won't get that little foot."
I was starting to think that these darned things were the Holy Grail of patisserie!
I don't know what gave me the courage, but I finally just decided this week that, against all evidence that this was a bad idea, I was going to give making these a try. I guess I figured that cat toilet-training alone wasn't challenging enough…
(that IS progressing, by the way – slowly, but it is progressing)
Well, I have apparently done something right in a previous life or something, because the macaroons turned out perfectly. On the first try. I was absolutely shocked. I was prepared for failure. I had purchased extra eggs, powdered sugar and almond meal to be sure that I had enough ingredients on hand for the second attempt that I believed was going to be inevitable.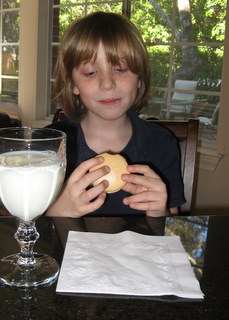 Boy, enthusiastically enjoying a macaroon and what, thanks to my poor photography skills, appears to be (but really isn't) the World's Largest Glass of Milk
These were astoundingly delicious and, although I'm afraid that I'm tempting fate with my braggadocio and will be cursed and never able to replicate my feat…..I do think that my macaroons would give the ones that we had in Paris a run for their money. (I'm bracing for the lightning strike being hurled in my direction by the staff of Laduree.)
Seriously, though…they turned out with a shiny, smooth, domed top, a crunchy exterior yet chewy interior, a perfect, ruffly little "foot" and they tasted great (Mexican vanilla, you can't beat it). My only criticism is that the filling wasn't quite fluffy enough – it was more like regular buttercream. I think that I may have overcooked the eggs whites a little, so I'll try to fix that next time.
I used Martha Stewart's recipe. Here's another link that has a video clip that you may find helpful.
I followed the recipe fairly closely, but did make a few very minor adjustments:
I decided to make only a half-batch of the buttercream, since that's all that the macaroons called for and I didn't want to have a lot left over. As it turned out, even that amount was excessive and I was able to use the remaining buttercream to complete a second batch that I made today (in other words, a half-batch of the buttercream was enough for me to completely fill two batches worth of the cookies).
I used the vanilla extract, but also added about 2 drops of almond extract to the cookie batter, just to "round out" the flavor.
I didn't do the whole "cookie cutter dipped in flour" thing to mark circles on a Silpat (that just sounded silly and messy to me), but instead used a Sharpie to draw 1.5 inch circles on the BACKSIDE (you don't want Sharpie ink in your cookies) of a sheet of parchment. The parchment is thin enough that you can see through it to see the circles when you're piping the batter. I used the screw-top lid of a spice jar as a stencil to make the circles.
I didn't get the cookie yield that Martha did. My first batch of cookies only made 13 macaroon sandwiches (26 meringues) and my second batch (where I made a concerted effort at uniformity of size) only yielded 20 finished cookies (40 meringues).
I beat the egg whites for the cookie batter a little past medium-soft as I was adding the sugar. Mine were more like medium-stiff.
I didn't use a tip on my pastry bag, but just used a standard-sized coupler, by itself, instead. I think that a Ziploc bag (with an appropriately-sized hole cut out at one corner) would have worked perfectly fine, too. There is a sizable amount of batter, so if you use a baggie, I would recommend the gallon size.
I will DEFINITELY be making more of these. I've got all different kinds of flavor ideas running through my brain:
Cara Cara orange
(I have some delicious ones in my fridge right now)
Gingerbread (I found a recipe online from Spago's pastry chef)
Chai (I just made a batch of my Chai seasoning mix)
Cinnamon (what's not to like?)
and
then there's always the traditional:
Lemon (My mother makes great lemon curd and said she'd make some for me to use as filling)
Chocolate (need I say more?)
Raspberry (ditto)
and Pistachio (although I will probably avoid making them artificially green, as is the practice in Paris)
Stay tuned, for I will definitely be making more of these in the near future…….