OK, all of you BCW Gourmet Clubbers that are stopping by – please leave me a comment to let me know what you think! That was a great party, huh? Does anyone have the Orange-Chipotle Pork recipe that they would be willing to share? That was scrumptious!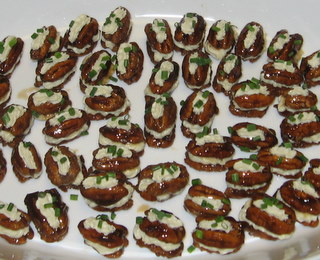 NOTE: I'm going to be entering the photo above in the monthly CLICK photography contest. Wish me luck!
This recipe is adapted from one in the great little appetizer cookbook, Cocktail Food: 50 Finger Foods with Attitude (they are called "Nutty Napoleons" in the book and are made with dry-toasted pecans, instead of the balsamic glazed ones). I don't remember where I originally saw the instructions for the balsamic-glazed pecans, but they were served over a spinach salad (with balsamic vinaigrette). I thought these two recipes would be great, if they were combined together. We are heading to a neighborhood party this evening and each couple is asked to bring an appetizer. I thought that these would be fun and festive.
Balsamic-Glazed Pecan and Stilton Bites
6 cups very large and perfect pecan halves, divided
1 and 1/2 cups brown sugar, divided
6 Tbsp. olive oil, divided
6 Tbsp. balsamic vinegar, divided
salt
8 ounces cream cheese, at room temperature
6 ounces Stilton cheese, at room temperature
6 tsp. port wine
1 1/2 tsp. honey
1/4 tsp fresh ground black pepper
chopped fresh chives, for garnishing (about 6 Tbsp.)
Line a large cookie sheet with foil. Spray the foil lightly with cooking spray and set it aside.
NOTE:
I prepared the pecans in 3 separate batches, with 2 cups pecans, 2 Tbsp. oil, 2 Tbsp. vinegar, 1/2 cup brown sugar and a pinch of salt in each one. It MIGHT work if you cook all 6 cups of pecans (and all of the other ingredients) at once, but I haven't tried it, so I can't vouch for it, for sure (don't know if the pecans would toast evenly, etc.). If you're going to do all 6 cups at once, you'll need more than one foil-lined baking sheet.
Whisk the oil, vinegar, sugar and salt in a large, heavy skillet over medium heat until bubbly. Add pecans and cook until glaze is dark and thick and pecans are well toasted, stirring frequently and being careful not to burn the pecans (about 5 – 7 minutes). Remove pan from heat and pour pecans onto foil-lined baking sheet, gently separating the pecans as much as possible as you pour them, with a wooden spoon or spatula. DO NOT TOUCH THE PECANS WITH YOUR HANDS; they will be scaldingly hot (yes – I learned this the hard way – I have a blister under the tip of my left middle fingernail – ouch). Allow the pecans to cool for at least 10 minutes – you'll be able to separate them more later.
Blend the cream cheese, Stilton, port, honey and pepper in a food processor until smooth. Transfer to a pastry bag fitted with a # 18 (or similarly-sized) tip. (You can also use a plastic baggie with a corner cut off or a small, round tip.)
Put half of the cooled, separated pecans (flat-side down) on a serving tray. Pipe about 1/4 tsp. of the cheese mixture down the top of the pecan and then top with a second pecan (flat-side down). Pipe an additional 1/4 tsp. of cheese onto the top pecan and sprinkle with chopped chives to garnish.
The glazed pecans can be prepared up to 3 days in advance and stored in an airtight container at room temperature. The cheese mixture can be prepared up to 3 days in advance and refrigerated, but allow to come to room temperature before assembling (pull it out of the fridge about an hour ahead of time).
You can assemble the pecans up to 3 hours ahead and allow to sit at room temperature.
Yield: about 120 bites, depending upon the size of your pecans.