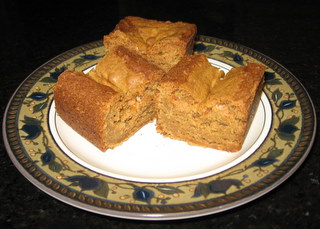 I don't remember where I initially read about this pan, but I knew when I saw it that I HAD to have one.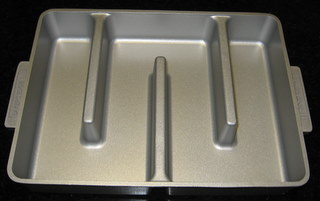 It allows you to bake lasagna, cookies, brownies, etc. and EVERY PIECE will have at least two sides of chewy, crispy edge (the best part, in my opinion). No more gooey, half-baked brownies from the inside of the pan? Sign me up!
I mentioned this pan to Hubby MONTHS ago and apparently (and uncharacteristically), he remembered. A box arrived today, addressed to Hubby and sent from "Bakers Edge". Poor guy – he was going to try to surprise me and this was supposed to be part of my Christmas present, but the labeling gave him away. Of course, once I saw it, there was NO WAY that I could wait until Christmas to use it. I am NOTORIOUS for finding out about presents. I used to peek before Christmas when I was a kid (really sorry about that Holly Hobbie gazebo, Mom). I'm also AWFUL at keeping secrets (you've now been warned: don't tell me any!), but I'm particularly awful at keeping secrets about gifts. When I was about 5, I told my newly-minted tennis enthusiast uncle that I couldn't tell him what his birthday gift was, but that they were yellow and came three-to-a-can.
In addition to craving the pan, I've been craving Blondie bars (similar to a brownie without chocolate), ever since seeing the new Nancy Drew movie this summer (Nancy uses homemade lemon bars and blondies as bribes to elicit clues and confessions), so last night, when the pan arrived, my mission was clear.
Blondies
(inspired by Nancy Drew and Bakers Edge)
3 sticks butter, unsalted
2 cups light brown sugar, packed
1 cup dark brown sugar, packed
3 cups flour
1 Tbsp. baking powder
3/4 tsp. salt
3 eggs
1 Tbsp. vanilla extract, Mexican
Preheat oven to 325 degrees. Spray Bakers Edge (or 9 X 13) pan generously with cooking spray.
Stir together flour, salt, baking powder and set aside.
Melt butter in a large saucepan over medium heat and then add sugars. Cook butter-sugar mixture until thoroughly combined and bubbly. Set aside to cool for about 2 minutes.
While butter-sugar mixture cools, whisk eggs and vanilla in a large mixing bowl until slightly frothy. Slowly pour butter-sugar mixture into the eggs, whisking constantly (to keep eggs from scrambling – eww!). This is much easier if you have someone to help you: one of you pours, the other whisks. Add the flour mixture and stir to combine. The batter will be VERY thick and caramel-y at this point.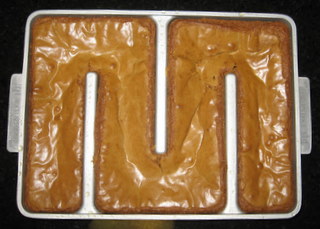 Pour the batter into the prepared pan and bake for about 40 minutes or until batter is barely "set" and edges (mmmm….LOTS of them!) are nicely golden brown. They will very likely be a little sunken in the middle of each "row" if you cook them in a Bakers Edge pan – and that's OK! Let cool, in the pan on a wire rack, for at least 10 minutes before cutting into serving pieces (DO NOT use metal utensils on your Bakers Edge pan).
Makes about 24 (depending upon how you cut them, of course).
You can add chopped nuts, dried fruit, baking chips – or whatever else might strike your fancy, if desired, but additions aren't necessary – they are plenty good plain.
These are AMAZING and make your house smell SINFUL while they're cooking. I didn't think that anything could replace Swedish Spice Cookies in my family's eyes, but these are giving them a run for their money. Imagine if shortbread and caramel had a love child…that's what they're like.