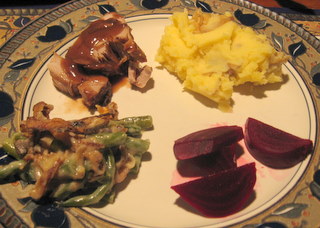 My mother gave me this EASY Crock Pot Pork Tenderloin recipe many years ago. It's super kid-friendly and very low fat. You can throw it in the Crock Pot and let it cook with you're out shopping for presents or decorating the Christmas tree.

Crock Pot Roast Pork Tenderloin with Cranberry Gravy
1 (two to three pound) pork tenderloin
1 can whole cranberry sauce
1/2 cup cranberry juice (not cranberry juice cocktail)
1/2 cup sugar (I usually cut this just a bit)
1 tsp. dry mustard powder
1/4 tsp. ground cloves
2 Tbsp. cornstarch
Put cranberry sauce, juice, sugar, mustard and cloves in crock pot. Stir with a whisk to thoroughly combine. Add pork tenderloin. Set crock pot to cook for 8 to 10 hours on low setting.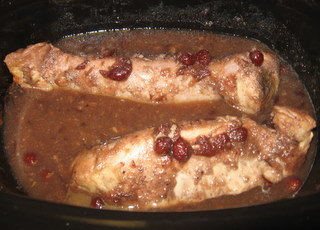 When the timer goes off, carefully pull pork loins out of crock pot (leaving sauce) and set aside to rest on a cutting board.
Carefully pour gravy from crock pot into a small saucepan. Add the cornstarch and whisk thoroughly to combine. Cook over medium-low heat until gravy has thickened to serving consistency. If you are serving picky eaters who might be turned off by the whole cranberries, you may puree the gravy with an immersion blender.
Slice tenderloin (1/2 inch to 3/4 inch thick). Place it on a serving platter and drizzle with the cranberry gravy. Serve the rest of the gravy on the side.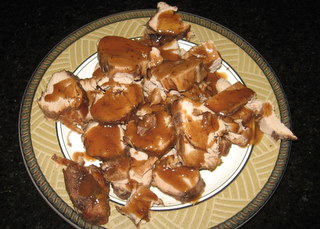 Everyone liked this recipe, but it is on the "sweet" side, so you may not care for it if you don't care for "sweet" meat sauces (Hubby prefers savory/herb/garlic-type dishes). I just found this similar (but maybe less sweet) recipe on Epicurious. I think it might be good, too, and might be possible to adapt for the Crock Pot. I may give it a try sometime soon.
Our brother-in-law, who is a great cook, made a homemade version of the classic Campbell's green bean casserole for Thanksgiving and I've been craving it again ever since, so I decided to try to recreat it for dinner last night.

Homemade French Fried Onions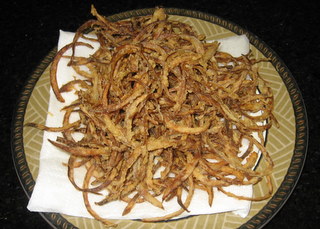 about 1 and 1/2 cups VERY thinly sliced red onion
about 1 cup milk
about 1 cup flour with a little salt (1/2 tsp?) mixed in
oil for frying (I used a blend of peanut and canola)
Soak the onions in the milk for about 5 minutes while you eat the oil to about 350 degrees in a deep skillet. Remove the onions from the milk a small handful at a time and dredge, in batches, through the flour to coat. Fry in the oil until onions are golden brown – be careful not to let them burn! Remove from oil and drain on paper towels. Set aside to cool. Try not to nibble too many of them while you assemble the rest of the casserole ingredients.

Homemade Cream of Mushroom Soup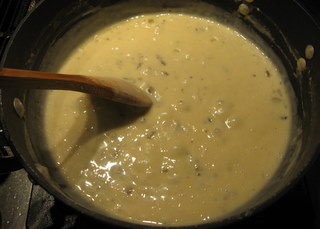 1/4 to 1/2 cup butter
1/4 cup flour
1 pound sliced fresh mushrooms
2 cups liquid: milk, chicken stock, cream (or a combination thereof – I used the milk from soaking the onions, plus a little stock and cream)
1/4 to 1/2 tsp. dried thyme leaves
salt and pepper to taste
Saute mushrooms in 1/4 cup of the butter until softened. Remove mushrooms and set aside, leaving butter in the pan. Add the flour and stir to thoroughly combine, adding more butter if necessary to create a smooth, blended roux. Cook the roux over medium heat for 2 to 3 minutes until thickened. Slowly stir in the liquid and continue cooking until well combined and thickened to cream soup consistency. Chop the mushrooms up a little bit and add them back to the soup. Add the thyme and salt and pepper to taste.
Homemade Green Bean Casserole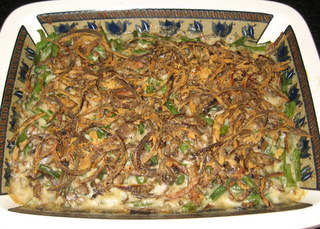 One batch Cream of Mushroom Soup
One batch French Fried Onions
2 (10 oz) packages frozen green beans, cooked according to package directions
Preheat oven to 350 degrees. Layer half of the green beans in a large rectangular casserole dish. Sprinkle with half of the onions.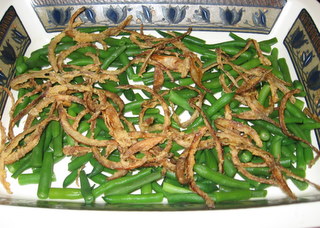 Layer in the rest of the green beans and then half of the remaining onions. Pour mushroom evenly over the whole casserole and top with the remaining onions.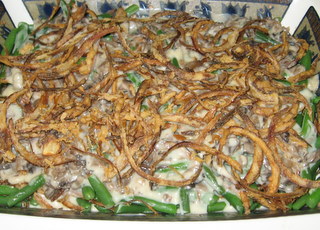 Cook for about 30 minutes or until the casserole is heated through and bubbly and the onions on top have browned a bit more.
This recipe was really good, but did have a much stronger mushroom flavor than the canned soup version. Hubby and I loved it, but it wasn't a great big hit with my mushroom-doubting kiddos. I wouldn't recommend making this for your kids unless they are mushroom lovers.